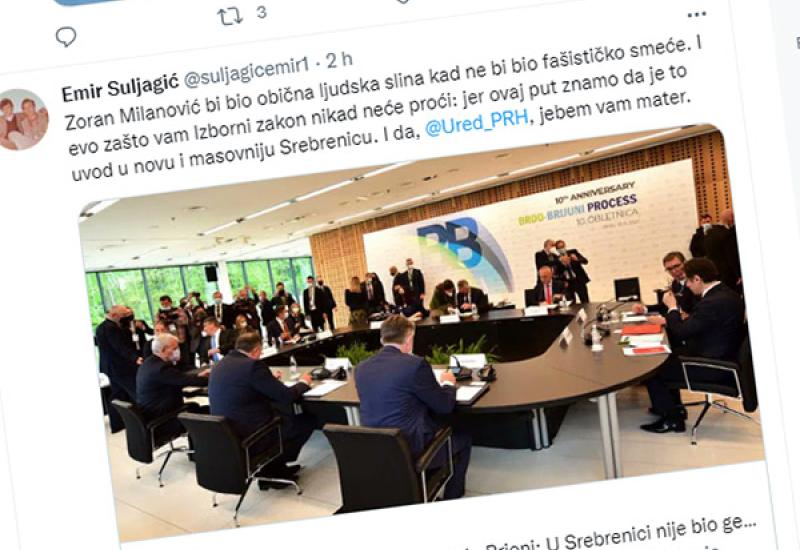 Tekst članka se nastavlja ispod banera
"Zoran Milanović bi bio obična ljudska slina kad ne bi bio fašističko smeće. I evo zašto vam Izborni zakon nikad neće proći: jer ovaj put znamo da je to uvod u novu i masovniju Srebrenicu. I da, @Ured_PRH, jebem vam mater", napisao je Emir Suljagić na Twitteru.
  / Suljagićev tweet
Naime, Suljagić je reagirao na neprovjereno pisanje srbijanskog dnevnika Danas u kojem se tvrdi da je hrvatski predsjednik Zoran Milanović okupljenima na ručku tijekom susreta Brdo-Brijuni rekao kako "ima raznih vrsta genocida, ali u Srebrenici nije bio genocid".
  / Preslik teksta dnevnika Danas
Zanimljivo je da članovi Predsjedništva BiH, Željko Komšić i Šefik Džaferović, koji su bili na ovom summitu nisu u svojim reagiranjima nakon sastanka spomenuli bilo kakvu izjavu Milanovića o Srebrenici.
Sporno im je bilo samo to što je Milanović tražio da se u deklaraciju sa summita uvrsti i poštivanje konstitutivnosti što je odbijeno uz poruku da je to unutarnja stvar koju moraju riješiti politički akteri u BiH.