Pjevačica i bivša djevojka Darka Lazića, Barbara Bobak, povećala je usne, zbog čega je od pojedinih dobila negativne kritike.
Ona se rezultatima estetske korekcije pohvalila na društvenim mrežama, međutim od pojedinih je dobila negativne komentare i opasku da izgleda "plastično".
Barbara je riješila da ne prešuti, već je žustro odbrusila:
– Mislim da je krajnje vrijeme da ovo neko kaže – 21. vijek je, nemate opravdanje više da budete ružne – počela je Bobakova na snimku koji je okačila na Instagramu i dodala:
– Šalu na stranu. Sve što nekome na njegovom licu, tijelu i ostalo, ne prija, ako ima mogućnost da to popravi, naravno da apsolutno treba da to uradi. Kad izgledate lijepo sebi i kad ste zadovoljni sobom, onda se osjećate bolje. Onda ne ostavljate ružne komentare, onda ne gledate u druge žene i u fazonu ste – ma ona je sva plastična, zato je lijepa. Pa budi i ti plastična, pa budi i ti lijepa! Šta da vam kažem drugo?! – zapitala se pjevačica.

Prema njenim riječima, smatra da svako sebi treba da priušti nešto zbog čega će biti sretan:
– Šta god to bilo. Nekoga usrećuje da bude prirodan, nekoga silikoni, nekoga da malo popuni usne, nadogradi kosu itd. Bitno je da se osjeća lijepo u svojoj koži, a ja kada se pogledam u ogledalu, u fazonu sam – kakva si riba! E to vam želim -zaključila je ona.
Za kraj, Barbara je postavila i dvije fotografije sebe, onu bez filera u usnama i jednu novu sa hijaluronom.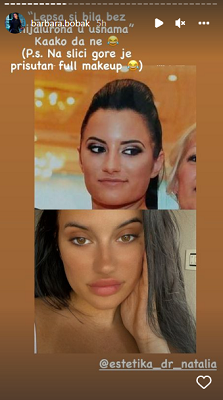 – "Ljepša si bila bez hijalurona u usnama". Kako da ne! Na slici gore je prisutan full make up – poručila je ona.
(express/idjtv)