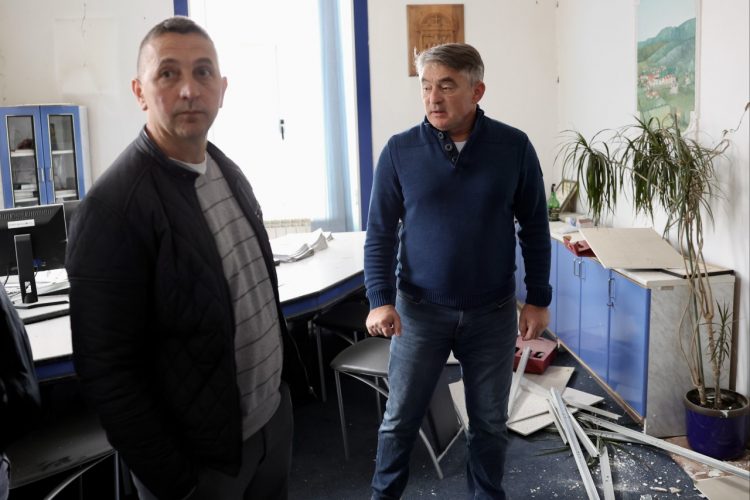 Šefik Džaferović, predsjedavajući Predsjedništva Bosne i Hercegovine i Željko Komšić, član Predsjedništva BiH danas su posjetili Stolac, a nakon njega i Ljubinje, također još jedno od mjesta u BiH koje je osjetilo posljedice zemljotresa koji je sinoć oko 23:00 sata pogodio područje naše države, ali i regiona.
Sastali su se sa načelnikom Ljubinja Stevom Drapićem koji ih je informisao o trenutnoj situaciji na terenu.
Brojne televizije obišle su Ljubinje gdje su kamere zabilježilie da je u velikoj mjeri materijalnu štetu pretrpjela zgrada Općine koja je sada neuslovna za rad.
Upravo to je u razgovoru sa Komšićem i Džaferovićem i rekao načelnik Ljubinja naglašavajući da će tražiti od Vlade RS da im ustupi prostorije tamošnjeg hotela koji nije u funkciji, a koji je u vlasništvu tog entiteta kako bi mogli u njemu raditi.
U unutrašnjosti zgrade Općine došlo je do obrušavanja plafona i zidova, a u jednoj od kancelarija stanje je poprilično alarmantno s obzirom na to da je veliki dio stropa pao na namještaj i podove i uništio gotovo cijelu prostoriju.
Načelnik Drapić je pojasnio da je ova zgrada inače austrougarske gradnje, starija je i dotrajala te je ovaj zemljotres bio samo kap koja je prelila čašu.
Inače je u Ljubinju zabilježena materijalna šteta i iz jednog stambenog objekta su iseljeni mještani zbog sigurnosti.
Također je važno istaći da povrijeđenih na ovom području nema.