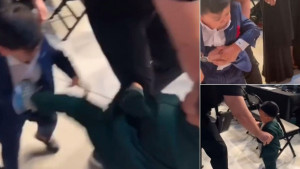 Hasbulla je zvijezda društvenih mreža na kojima često pozira s proslavljenim ličnostima, najviše sa bivšim UFC-ovim prvakom lake kategorije Khabibom Nurmagomedov, s kojim ima jako dobar odnos.
Hasbulla ima 19 godima, alii patuljastog je rasta i visok je svega 91 centimetar, a ima manje od 20 kilograma. Popularnost je stekao kada je na internetu objavio video na kojem se vidi kako vozi quad.
Reklama – nastavite čitati ispod oglasa
Tada je mnogima izgledalo ludo jer su smatrali da dijete od pet ili šest godina vozi quad, no Magomedov, koji živi u Dagestanu, mnogo je stariji, a pati od bolesti zbog koje izgleda kao dijete.
"Ne smatram se invalidom. Samo ne rastem, to je sve. Kad hodam brzo, osjećam se umorno", rekao je Magomedow, koji je u drugom intervjuu priznao da voli i voziti bicikl.
"Drugi tinejdžeri sjede doma i pišu da sam retardiran. Ali mi zavide", rekao je.
Reklama – nastavite čitati ispod oglasa
Sada se pokazalo da je potpisao petogodišnji ugovor s UFC-om.
"Zasad je u planu promotivno sudjelovanje na gala i raznim medijskim aktivnostima", objavio je novinar Igor Lazorin, a prenosi "The Sun". "Ne mogu iznositi detaljne iznose, ali novac je takav da ga ni mnogi borci ne dobijaju", dodao je i tako na neki način otkrio da će "malac" zarađivati bogatstvo od ove organizacije.
Šefa UFC-a Danu Whitea upitali su ranije da li postoji ikakva šansa da će se Hasbulla jednog dana boriti, a on je odgovorio: "Volim tog klinca i definitivno postoji šansa da se jednom nađe u ringu".
Bilo je ranije govora da će se boriti s Tajikom Abdurozikom, koji je slične građe, ali ipak se to nije dogodilo jer mnogi su smatrali da to nije etički i da bi se borba održala isključivo za preglede i na neki način bi se ismijavali i jedan i drugi.