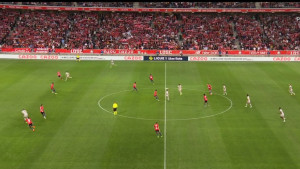 Iako su pariški Prinčevi brojali do 7, ponašanje Neymara i Mbappea nakon trzavica protiv Montpelliera je privuklo najviše pažnje.
Sluteći po dešavanjima na terenu sve nesuglasice su između njih pošto su zajedno slavili golove, odlično sarađivali na terenu i sa osmijehom pozdravljali jedan drugog.
Reklama – nastavite čitati ispod oglasa
Mbappe je meč završio sa hat-trickom, dok je Neymar zabio dva gola te upisao dvije asistencije upravo francuskom superstaru.
Neymar assists Mbappé to make it 6-1 for PSG.

Everything's alright 🙌 pic.twitter.com/sY8EY1j2xx

— B/R Football (@brfootball) August 21, 2022
PSG je već nakon 8 sekundi igre imao prednost budući da je Messi na fenomenalan način uposlio Mbappea koji je lobovao golmana.
Nakon niza propuštenih izglednih prilika novi gol je stigao u 28. minuti, a strijelac je bio Messi. Argentincu je to bio treći gol u sezoni.
Reklama – nastavite čitati ispod oglasa
Nezapamćen početak meča
PSG-u dovoljno osam sekundi: Svi trče Mbappeu u zagrljaj, ali Messi je istinski kralj!
Do kraja prvog poluvremena među strijelce su se upisali još Hakimi i Neymar. Gol Brazilca možete pogledati ovdje.
A na poluvremenu se moglo vidjeti kako Neymar tješi razočarane igrače Lillea na putu u svlačionici te je jasno da borbe nema.
Na startu drugog dijela Neymar je zabio na asistenciju Hakimija, dok dvije minute kasnije utješni gol za domaće postiže Bamba.
Do kraja utakmice Mbappe je kompletirao hat-trick nakon što ga je oba puta na nesebičan način asistencijama "ispoštovao" Neymar. Šesti gol poslije lijepe kombinacije pogledajte ovdje.
Inače, bila je ovo četvrta uzastopna ligaška utakmica PSG-a na kojoj je ovaj tim postigao najmanje pet golova. Posljednji tim kojem je to uspjela je Reims još u sezoni 1952/53.