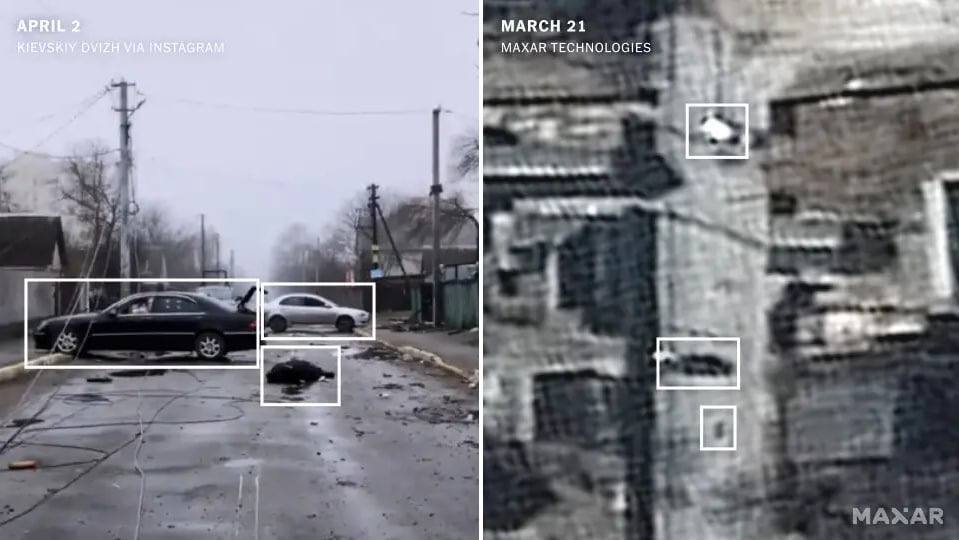 [{"img":"\/img\/vijesti\/2022\/04\/fph3k9hwyam4mkr.jpg","full":"\/img\/vijesti\/2022\/04\/fph3k9hwyam4mkr.jpg","caption":"Izvor: Twitter","bg":"717176″},{"img":"\/img\/vijesti\/2022\/04\/fph8roawuaah3on.jpg","full":"\/img\/vijesti\/2022\/04\/fph8roawuaah3on.jpg","caption":"Screenshot","bg":"b7b1a8″},{"img":"\/img\/vijesti\/2022\/04\/fph63n1xsaq23cz.jpg","full":"\/img\/vijesti\/2022\/04\/fph63n1xsaq23cz.jpg","caption":"Screenshot","bg":"3b3531″},{"img":"\/img\/vijesti\/2022\/04\/fphnpdexoaqymi6.jpg","full":"\/img\/vijesti\/2022\/04\/fphnpdexoaqymi6.jpg","caption":"Screenshot","bg":"788bb1″}]
05.20 Najmanje tri Ukrajinca koje su Rusi mučili pronađena su u okrugu Konotop, javlja Ukrainska pravda.
04.00 Još jedan ruski T-72B3 je uništen. Međutim, ovo vozilo djeluje prilično zanimljivo; čini se da je na kupoli ugrađena izrazito nestandardna optika ili jedinica za mjerenje udaljenosti, javljaju ukrajinski mediji.
#Ukraine: Another Russian T-72B3 was destroyed.

However, this vehicle seems quite interesting; a decidedly non-standard optics or range-finding unit seems to be installed on the turret- if anyone has any ideas, let us know! pic.twitter.com/x0rI9kHPy6

— Ukraine Weapons Tracker (@UAWeapons) April 4, 2022
03.30 Tijela ubijenih u Buči počela su se pojavljivati na ulicama 11. marta, kada su bile ruske trupe – otkrivaju satelitski snimci.
03.00 U granatiranju južnog ukrajinskog grada Mikolajiva u ponedjeljak je poginulo deset osoba, uključujući dijete, rekao je čelnik regionalne administracije.
U videu objavljenom na društvenim mrežama Oleksandr Senkevič je rekao: "Tijekom dana je u granatiranju ubijeno ukupno 10 ljudi, a 46 je ozlijeđeno."
02.00 Ukrajinski predsjednik Volodimir Zelenski u noćašnjem je obraćanju iznio tvrdnju da je više od 300 civila mučeno ubijeno u Buči te da će se u utorak obratiti UN-u.
Kazao je i su mještani u okupiranim područjima su od Rusa doživjeli ono što nisu u nacističkoj okupaciji.
01.00 Tijela petorice muškaraca vezanih ruku pronađena su u podrumu dječje bolnice u Buči, blizu Kijeva, koju su Ukrajinci oslobodili od Rusa i gdje su počinjeni pokolji, saopćio je Ured ukrajinske državne tužiteljice.
00.30 Ukrajinska obavještajna služba objavila je popis za koji tvrde da su na njemu ruski vojnici koji su počinili zločine nad civilima u Buči.
Na popisu objavljenom na web stranicama obavještajne službe koja djeluje u sklopu Ministarstva obrane nalaze se imena, datumi rođenja, brojevi putovnica i činovi oko 2000 vojnika.
Uz to stoji poruka: "Zapamtite! Svi ratni zločinci bit će izvedeni pred lice pravde za zločine počinjene nad civilnim stanovništvom Ukrajine."
loading…