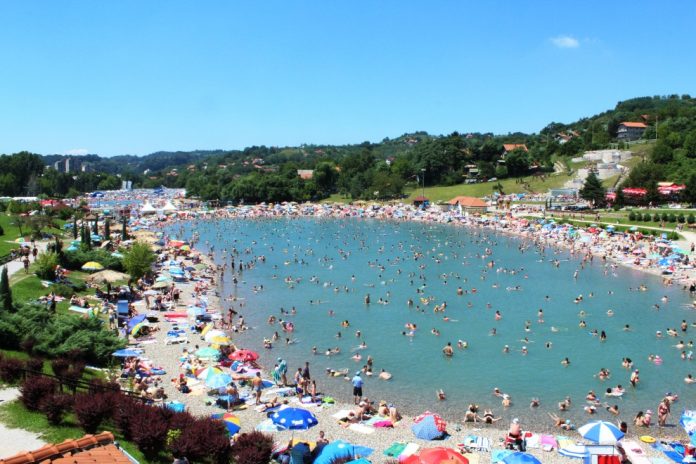 Kompleks slanih Panonskih jezera u centru Tuzle je spreman za ljetnu sezonu 2021. godine, a zvanični početak je u utorak, 1. juna – potvrdio je direktor JKP Panonika Maid Porobić.
Nagovještaji su da neće biti baš dobro vrijeme, ali Panonika je inače otvorena, kaže Porobić, dodavši da se sa sunčanim danima očekuje da Panonska jezera počnu raditi u svom punom kapacitetu.
Menadžment ovog preduzeća očekuje manju posjetu turista u odnosu na period prije pandemije Kovida-19.
"Ipak, očekujemo da posjeta Panonici ove godine bude dobra, bit će primijenjene sve preventivne higijensko-epidemiološke mjere, a broj posjeta zavisi od uslova. Ali, sudeći po velikom interesu građana, mi očekujemo da će Panoniku ovog ljeta posjetiti preko 250.000 gostiju", navodi Porobić.
Govoreći o prošlogodišnjoj sezoni, koja je bila veliki izazov za turizam, rekao je da je to jedno veliko iskustvo, napominjući da se prvi put radilo pod tim uvjetima.
Panonika je smanjila kapacitete za dvije trećine, kako bi se ispoštovala sigurnosna distanca. Po riječima Porobića, i ove godine će se poštivati fizička distanca, uz nadzor 40 spasilaca i redara.
Na velikom prostoru od 75.000 metara kvadratnih je obezbijeđeno provođenje higijensko-epidemioloških mjera.
"Veliko iskustvo je iza nas i nadam se da ćemo ovu sezonu uspješno završiti", poručio je.
JKP Panonika upošljava oko 180 radnika, ali ove sezone će zbog novonastale situacije biti uposleno oko 150 radnika.
"Očekujemo bolju sezonu od prošlogodišnje, kada smo imali u kombinaciji pandemiju i jako loše vrijeme, cijeli juni je bio jako kišovit. Naš posao uglavnom zavisi od vremenskih uvjeta, to je presudni faktor da uspijemo", ističe Porobić.
Panonika kao turistički centar i brend grada Tuzle spreman je, dodao je, za sve izazove. Imaju najave gostiju i turističkih agencija iz susjednih zemalja, ali sve će ovisiti od vremenskih prilika, jer im je potrebno 55 do 60 sunčanih dana.