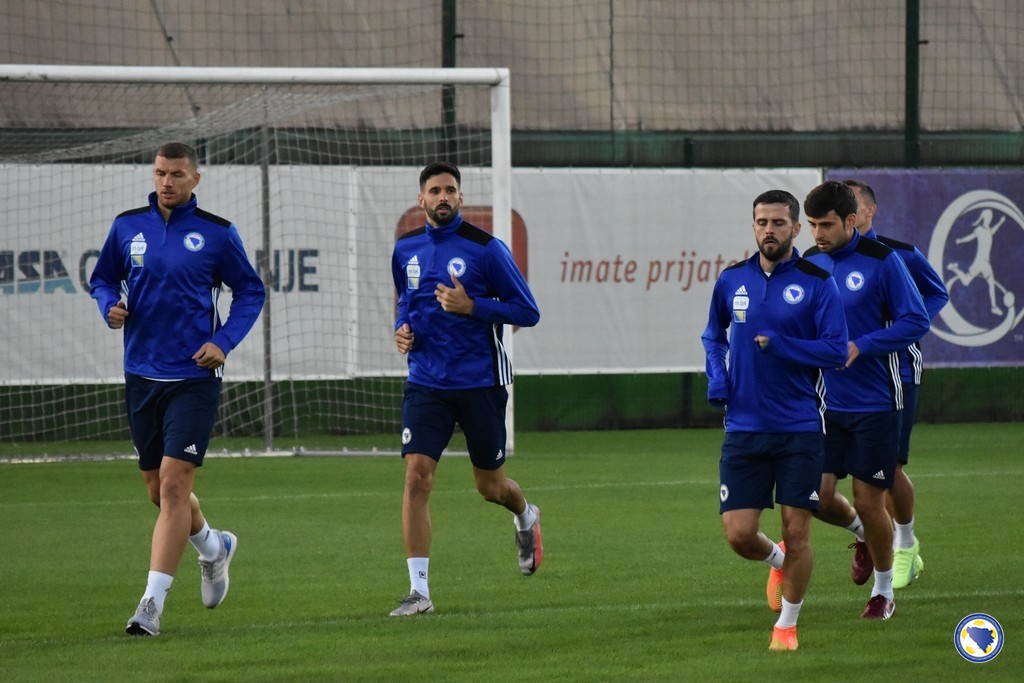 Fudbalski reprezentativci Bosne i Hercegovine su večeras odradili prvi trening u sklopu priprema za utakmice UEFA Lige nacija sa Crnom Gorom i Rumunijom.
S obzirom na to da su reprezentativci za vikend imali nastupe za svoje klubove, odrađen je trening regeneracije.
Na pripreme su došli i naknadno pozvani igrači Kenan Kodro i Dario Šarić, dok u predstojećim susretima Ivaylo Petev definitivno na raspolaganju neće imati Radeta Krunića, Luku Menala i Jusufa Gazibegovića.
U trening centru su se uoči večerašnjeg treninga predstavnicima medija obratili selektor Ivaylo Petev i reprezentativac Muhamed Bešić.
Selektor je govorio o zdravstvenom biltenu:
"Nakon povreda Menala i Krunića pozvali smo Kenana Kodru i Darija Šarića. Gazibegović je u posljednjoj utakmici zadobio povredu aduktora i na njega nećemo moći da računamo. Čekamo nalaze Anela Ahmedhodžića, on je takođe pod upitnikom. Neće biti dodatnih poziva. Pripremićemo se i pokušati da napravimo dobar posao."
Petev je još dodao:
"Imamo stvari u svojim rukama i uradićemo sve što treba da ostanemo prvi u grupi. Znam da to neće biti lako, ali vjerujem ovim momcima. Imamo priliku da nastavimo sa dobrim igrama iz juna i očekujemo dobre rezultate. Svaka ekipa želi da pobjedi i vidjećemo kako će se stvari odvijati."
Na pitanje da li je ekipa pod pritiskom Ivaylo Petev je odgovorio:
"Svaka utakmica nosi pritisak i naviknuti smo na to. Moramo preći preko toga, dati sve od sebe i pobjediti. Važno je da psihološki pripremimo ekipu za svaku utakmicu. Imamo igrače koji igraju na visokom nivou, znaju šta treba da rade i vjerujem da ćemo biti spremni. Jako bitno bi bilo da završimo Ligu nacija bez poraza i sve smo podredili tom cilju."
Muhamed Bešić je izjavio:
"Dobar posao smo napravili do sada, nemamo poraza. Ostale su nam još dvije utakmice i nadam se da ćemo nastaviti sa dobrim rezultatima. Crna Gora ima dobre igrače, kvalitetna su ekipa. Međutim, ako mi odradimo taktički sve na najbolji način i ako poslušamo upute selektora, vjerujem da ćemo pokazati da smo bolji tim. Sve je do nas, igramo na domaćem terenu. Daćemo sve od sebe i vjerujemo u uspjeh."
Igrači će danas odraditi trening.