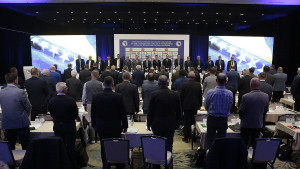 Komitet za hitnost krovne kuće bh. fudbala prihvatio je prijedlog FS Rusije o odigravanju prijateljske utakmice protiv reprezentacije te zemlje.
Utakmica je zakazana za 19. novembar u Sankt Peterburgu, ali je veliko pitanje ko će da je igra.
Reklama – nastavite čitati ispod oglasa
Edin Džeko, Miralem Pjanić i Anel Ahmedhodžić, tri glavne poluge reprezentacije Bosne i Hercegovine, javno su istakli da ne žele da se odazovu toj utakmici.
Očekivano, stigao je i stav BHFanaticosa, najveće navijačke skupine naše reprezentacije i, također očekivano, ni njima ne pada na pamet da podrže odluku Saveza.
"Bojkot", kratko su napisali na svojoj Facebook stranici uz fotografiju zastave Rusije, prvog grba Bosne i Hercegovine, uz datum zakazane utakmice i natpis: "Bojkot!".
Reklama – nastavite čitati ispod oglasa
Ukoliko se utakmica zaista odigra, biti će to prva utakmica ruske reprezentacije protiv jedne evropske selekcije nakon izbijanja rata u Ukrajini.
Također, spomenimo i to da su s Rusija pored nas, prihvatili odigrati prijateljsku utakmicu, također u novembarskom terminu, reprezentacije Kirgistana i Irana.
Kasno je za kajanje
Može li se odluka Komiteta za hitnost poništiti? Može, ali šanse za to su minimalne
Stav većine javnosti, igrača, navijača i novinara je jasan, a ostaje nam da vidimo kako će se sve ovo na kraju završiti. Jedno je sigurno, igračima ovo nikako nije trebalo desetak dana pred okupljanje i najvažniju utakmicu godine u kojoj možemo izboriti baraž za EP.