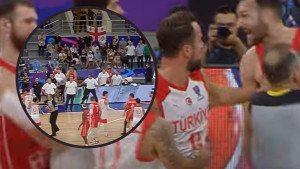 Gruzija je nakon drame i dva produžetka savladala Tursku rezultatom 83:88, ali na terenu je bilo itekako varnica.
Počelo je sve sa skoro fizičkim obračunom između Furkana Korkmaza i Dude Sanadzea.
Reklama – nastavite čitati ispod oglasa
Reprezentativac Turske je nakon jednog prekršaja krenuo žestoko na gruzijskog igrača, koji mu nije ostao dužan.
Brzo su sudije razdvojile igrače, koji su nastavili svoje varnice, a Korkmaz je zaprijetio Sanadzeu da ga čeka nakon utakmice.
Reklama – nastavite čitati ispod oglasa
Tu nije bio kraj obzirom da je pred kraj drugog produžetka doslovno poludio selektor Turske Ergin Ataman.
Ataman je krenuo da se fizički obračuna sa sudijama, ali igrači su brzo reagovali i ispratili ga u svlačionicu.
Nakon meča održana je pres skonferencija gdje su iz turskog tabora imali žestoko obraćanje.
Medijima se obratio Hakan Demir, pomočni trener u stručnom štabu.
"Nakon utakmice, Korkamaza su napala tri gruzijska igrača i nama se prijetilo. Ovo je skandal", rekao je Demir, a nakon toga telefonirao predsjednika Košarkaškog saveza Turske Omera Onanan koji je bio jasan.
Reklama – nastavite čitati ispod oglasa
"Ne dobijemo li sve snimke kamera i svega što se dešavalo u Tbilsiju mi napuštamo Eurobasket", rekao je Onan.
Izgleda da na Eurobasketu imamo i treće poluvrijeme, a pojavio se i snimak gdje su na terenu žestoke varnice među igračima, dok zapisnički stol i sudije nisu reagovali kako treba.
Fiba took a whole 24 seconds of the gameclock and no one noticed it beside me please spread it ,the foul was at 4:48 and they start to run the clock when ball was dead and continued at 4:26 after it 😂 pic.twitter.com/O9lEdBbUDo

— diante willis (@kobrapara) September 4, 2022
Turska je nakon večeršanje utakmice sada na omjeru 2-1, dok je Gruzija na omjeru 1-2. Vdijet ćemo šta će dešavati u nastavku prvenstva.