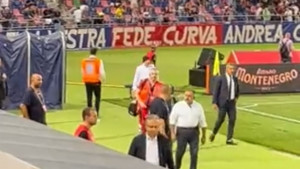 Mihajlović je prošlo ljeto proveo u bolnici kako bi nastavio liječenje od leukemije koja mu je dijagnosticirana drugi put u tri godine.
Bologna je imala težak početak sezone sa samo dva boda u četiri utakmice, a njegova kćerka uzvratila je trolovima na društvenim mrežama koji su vrijeđali njenog oca .
Reklama – nastavite čitati ispod oglasa
"Moja kći je odgovorila na uvrede koje nemaju veze s nogometom. Oni su isti oni koji se kriju iza tastature i pozdravljaju me i čestitaju mi kad se sretnemo na ulici", rekao je Mihajlović na konferenciji za novinare, a prenosi Gazzetta.
"Nemam račune na društvenim mrežama. Kći mi je jučer pokazala šta su napisali. Ja sam na to navikao, moje kćeri malo manje", dodao je.
Bori se s teškom bolešću
Sinoćnju scenu na Dall'Ari isuviše mršavi Siniša Mihajlović će pamtiti do kraja života
"Uznemirene su kada ljudi pišu neke stvari o njihovom ocu. Kad neko prijeđe crtu, moramo uzvratiti", istakao je srbijanski stručnjak.
"Osvojili smo dva boda u četiri utakmice i znamo da moramo učiniti više. Međutim, ti rezultati ne štete našem samopoštovanju. U svakoj utakmici smo bili u igri, stvarali prilike za gol, ali na kraju nismo zabili", objasnio je trenutnu krizu svog tima.
Bologna sutra gostuje kod Spezije na stadionu Picco od 15 sati i biće to prilika za prvu pobjedu.