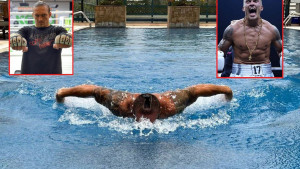 Usyk je tako postao vlasnik svih pojaseva osim onog WBC organizacije kojeg drži Fury i koji još uvijek zvanično nije upražnjen, iako je se Kralj Cigana odlučio penzionisati od boksa.
Ukrajinac je odmah nakon Joshue zatražio meč s Furyjem. Vjeruje kako se nije penzionisao i da će ga njegova pobjeda vratiti u ring.
Reklama – nastavite čitati ispod oglasa
"Siguran sam da se Fury nije penzionisao. Uvjeren sam da želi borbu sa mnom kao i ja s njim. Ako se ne budem borio s njim, neću se više ni boriti", rekao je nakon meča Usyk.
Promotor Tysona Furyja Frank Warren zagrijan je za organizaciju meča za apsolutnog prvaka svijeta. Želja mu je da se on desi u decembru, ali je Kralj Cigana postavio nevjerovatan uslov za povratak u ring.
On za borbu s Usykom želi cifru od 500 miliona dolara i jasno je poručio da ga bez tog iznosa ne zovu.
Reklama – nastavite čitati ispod oglasa
"Ta borba za mene je čisto zbog novca. Ja sam sretno penzionisan i imam gomilu novca. Da bih se borio mora to biti najveća isplata u historiji. Floyd Mayweather je za borbu s Mannyjem Pacquiaom dobio 400 miliona dolara. Ja želim 500 miliona za borbu s Usykom", rekao je Fury.

Čovjek je jednostavno čudo
Nepobjedivo čudovište i trening mašina: Niko na svijetu ne može ono što radi Oleksandr Usyk
Ne cijeni Fury previše Usyka. Tvrdi da bi ga lagano pobijedio.
"Ne spada u najveće ikad. Pobijedio bih ga sa sedmicu dana priprema. On je borac za srednje kategorije. Razvalio bih ga. Lagana borba za mene", ističe Fury i nastavlja.
"Ovaj Alex Oosk (namjerno ne izgovara pravo ime), njemu treba legendarni Kralj Cigana, a on meni ne. Ja sam svoje uradio, legenda sam i potreban sam mu jer je on stranac čije ime niko ne može izgovoriti", tvrdi legendarni šampion.
Reklama – nastavite čitati ispod oglasa
Nema Fury visoko mišljenje ni o Anthonyju Joshui. Tvrdi da je protiv Usyka pokazao da ne spada u vrh.
"Nisam ja kriv što ga je čovjek isprebijao i to dvaput zaredom. Ne moram ja s tim živjeti. Čak ne moram živjeti ni s činjenicom da me je taj 'srednjaš' prozvao".
"Jedini istinski teškaš iz Velike Britanije sam ja. Pokušali su me pratiti, ali su poraženi na najvišem nivou. Nije ovo nepoštovanje Joshue, on ima omjer 24-3, ali u vrhunskom boksu to ne može sakriti", poručio je Fury.
Britanski bokser povukao se s omjerom 32-0-1, a jedini neriješen meč imao je protiv Deontaya Wildera gdje su posljednjim sekundama borbe podigao iz strašnog nokauta.
Posljednji meč odradio je u aprilu ove godine kada je na Wembleyu pobijedio Dilliana Whytea nokautom u šestoj rundi.