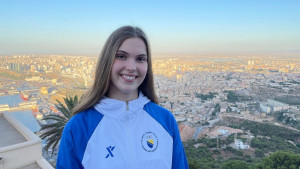 Naša najbolja plivačica Lana Pudar (16) je danas na Evropskom prvenstvu u Rimu u seniorskoj konkurenciji osvojila bronzanu medalju u trci 100 metara delfin. 
Lana je u finalu imala vrijeme 57.27, a to joj je bilo dovoljno da bude treća na kraju i da osvoji medalju.
Reklama – nastavite čitati ispod oglasa
Kao što smo odmah nakon trke pisali, njena majka danas slavi rođendan i sigurno je za nju ova medalja najljepši poklon, a sada je to potvrdila i sama Lana.
Naime, Lana Pudar se oglasila na Instagramu i u svojoj priči podijelila fotografiju s majkom Nadom uz medalju s Evropskog prvenstva uz opis:
"Za rođendan najboljoj mami u Evropi (a i šire)".
Još jednom pogledajmo kako je izgledala trka u kojoj je Pudar osvojila bronzanu medalju.