Jelena Karleuša nekada, tačnije prije skoro tri decenije jednako je dobro izgledala
Pjevačica Jelena Karleuša važi za najbolje stilizovani zvijezdu na estradi, i to ne samo posljednjih godina. Ona je od samog početka svoje karijere izdvajala se po upečatljivom i smjelom izgledu. A sada je objavila i fotografije da to i dokaže.
Jelena je oduvijek nosila prepoznatljivu dugu plavu kosu kojoj je i danas vjerna, uz povremene korekcije za potrebe nastupa. Nekada je nosila i šiške, ali jedno je sigurno: bila je i ostala nevjerovatno zgodna. Doduše, ranije je bila mršavija, dok sada potencira naglašavanje oblina.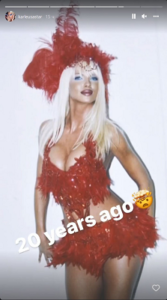 Na drugoj fotografiji staroj 20 godina izgleda kao da je slikana tek nedavno, a ne prije dvije decenije. I cijeli njen stajling je i dalje jednako trendi i moderan.
(express/gloria)