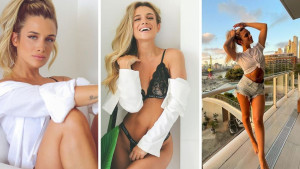 Nogometaši argentinske reprezentacije započeli su pripreme za posljednje dvije prijateljske utakmice koje imaju za cilj pripremiti ekipu za Svjetsko prvenstvo u Kataru.
Na društvenim mrežama pojavio se snimak na kojem se može vidjeti kako se prva zvijezda reprezentacije Lionel Messi "zakačio" sa Rodrigom de Paulom.
Reklama – nastavite čitati ispod oglasa
Na snimci se vidi da je došlo do delikatnog sukoba između igrača. Na početku snimke, Rodrigo de Paul je imao ozbiljno lice koje je dalo naslutiti da nešto zamjera zvijezdi PSG-a. Nogometaš Atletico Madrida je u jednom trenutku pokušao uhvatiti za ruku iskusnijeg saigrača, pokazavši blagu agresivnost.
Messi & De Paul back together 🤪🫶🏼pic.twitter.com/uS4djW5H35

— Judy❣️ (@messisbabe) September 21, 2022
Sljedeći video prikazuje još jednu malu svađu između de Paula i Messija. Prvi je lagano sapleo svog kolegu, što se naravno ne mora promatrati u smislu bilo kakve kontroverze ili mogućeg spora. Argentinski mediji, međutim, navode da je primjetna nervoza u kadru , a dokaz tome su i ovakve sitne svađe.
Reklama – nastavite čitati ispod oglasa
Selekcija pod vodstvom selektora Lionela Scalonija sprema se za dva prijateljska meča na stadionu američkog Intera iz Miamija. Argentina će 24. septembra igrati protiv Hondurasa, a 28. protiv Jamajke.
Reprezentacija Argentine utakmicom protiv Saudijske Arabije (22. novembra) otvorit će svoj nastup u grupi C na Svjetskom prvenstvu u Kataru. Potom će 26. novembra igrati protiv Meksika, a za kraj borbe u grupi, 30. novembra, Argentinci će odmjeriti snage s reprezentacijom Poljske.
Inače, Messi i De Paul su prijatelji, pa je teško povjerovati u to da postoje nesuglasice među njima, ali novinarima u Argentini ovi snimci su svakako zapali za oko i nije isključeno da su ipak imali jedan drugom šta da kažu.
Ranije ove godine De Paul je bio u centru pažnje zbog spora sa bivšom djevojkom Camilom Homs, a upravo je Messi uz nekolicinu iskusnih Argentinaca od igrača Atletica tražio da se što manje pojavljuje u medijima i da jednostavno ne izlazi u javnost sa stvarima iz privatnog života, te da u potpunosti bude fokusiran na nogomet.
Reklama – nastavite čitati ispod oglasa
De Paul je sada u vezi s Tini Stoessel (25). Do sada upisao 41 nastup za Argentinu i očekuje se da bude na listi putnika za Katar, ali morat će da popravi svoje ponašanje.
Messi and de Paul training today 🔥 pic.twitter.com/u98iY7Plvl

— Messi Media (@LeoMessiMedia) September 20, 2022
Volcanobet kladionica donosi svakodnevno bogatu ponudu i velike kvote. Šta čekaš? Klikni OVDJE i odaberi tiket za sebe!
Zapratite Volcanobet kladionicu na Facebook i Instagram profilu.