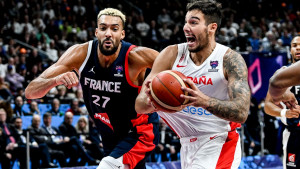 Domaćini su bili Italija, Češka, Gruzija, Njemačka, a nokaut faza odigrana je u Berlinu, gdje je večeras odigran i finalni meč.
Reklama – nastavite čitati ispod oglasa
U finalu Španija je savladala Francusku sa 88:76, bronza je otišla domaćinu Njemačkoj koja je u utakmici za treće mjesto bila bolja od najprijatnijeg iznenađenja turnira selekcije Poljske rezultatom 82:69.
No one like them. 🇪🇸#EuroBasket x #BringTheNoise

— #EuroBasket 2022 (@EuroBasket) September 18, 2022
Po završteku finalne utakmice izabrani su i najbolji pojedinci.
U najboljoj petorci Eurobasketa našli su se Giannis Antetokounmpo, Rudy Gobert, Willy Hernangomez, Lorenzo Brown i Dennis Schroder.
Svakako da će izbor Giannisa koji je ispao u četvrtini finala i prije svega Goberta koji je odigrao loš turnir za svoje standarde, izazvati dosta komentara.
Reklama – nastavite čitati ispod oglasa
Za MVP-a prvenstva izabran je španski reprezentativac i član New Orelans Pelicansa Willy Hernangomez koji je fenomenalno igrao cijeli turnir, a pogotovo u nokaut fazi.
The #EuroBasket 2022 @TISSOT All-Star 5:

🇩🇪 Dennis Schroder
🇪🇸 Lorenzo Brown
🇬🇷 Giannis Antetokounmpo
🇪🇸 Willy Hernangomez
🇫🇷 Rudy Gobert#BringTheNoise pic.twitter.com/OenTmNqtsf

— #EuroBasket 2022 (@EuroBasket) September 18, 2022
Na ovom Eurobasketu nastupila je i reprezentacija Bosne i Hercegovine koja je u grupi "smrti" s omjerom 2-3 zauzela peto mjesto, a koliko je grupa bila jaka govori podatak da su dvije selekcije iz naše grupe došle do medalje to su Francuska i Njemačka.
Finalni meč sudio je bh. sudija Ademir Zurapović što je svakako veliko priznanje za bh. košarku.
Naredni Eurobasket je 2025. godine, a domaćini će biti Latvija, Estonija, Poljska i Kipar. Završnica turnira igrati će se u Rigi.
Kvalifikacije za novi Eurobasket počinju u novembru ove godine.