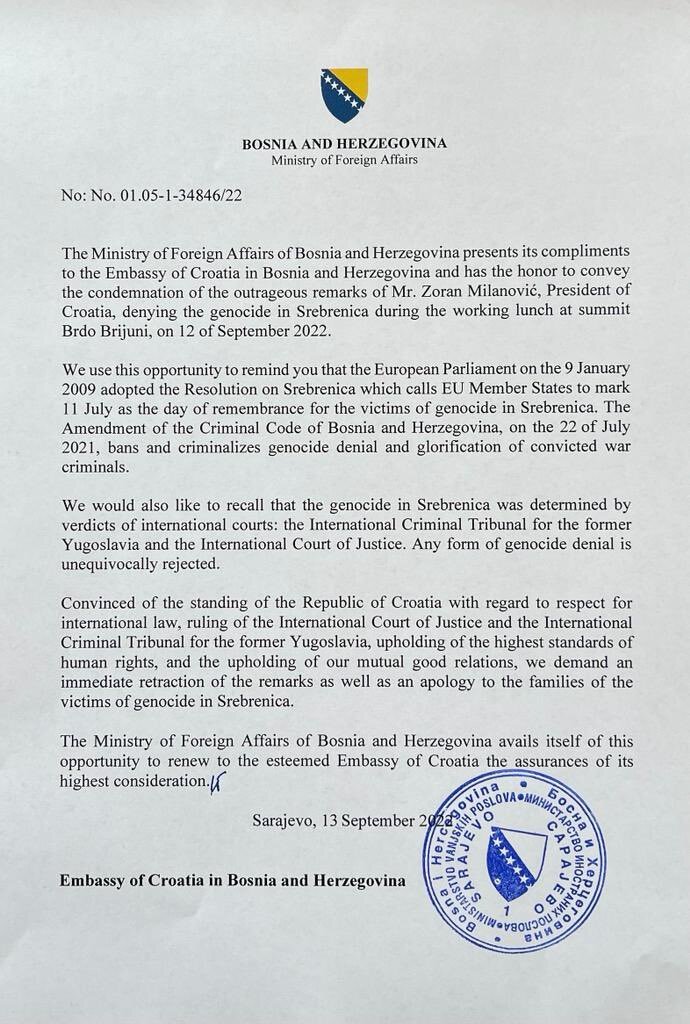 [{"img":"\/img\/vijesti\/2022\/09\/turkovic-milanovic.jpg","full":"\/img\/vijesti\/2022\/09\/turkovic-milanovic.jpg","caption":"Foto: Arhiva","bg":"cfc2b7″}]
Ministrica vanjskih poslova BiH Bisera Turković objavila je na svom Twitter nalogu da postoji "ozbiljna zabrinutost" zbog namjera hrvatskog predsjednika koje je danas prezentirao, a tiču se slanja hrvatskih oružanih snaga u BiH.
"Ozbiljno smo zabrinuti zbog namjere hrvatskog predsjednika da pošalje hrvatske vojnike u Bosnu i Hercegovinu, u sklopu misije Althea EUFOR/NATO u Bosni i Hercegovini, uz istovremeno negiranje genocida počinjenog u Srebrenici", poručila je ministrica Turković. 
Serious concerns about the intention of Croatia's President to send Croatian troops to Bosnia and Herzegovina, as a part of the Althea EUFOR/NATO mission to Bosnia & Herzegovina, while at the same time denying the Genocide committed in Srebrenica. pic.twitter.com/hI6QQ3C5ZT

— Bisera Turković (@BiseraTurkovic) September 16, 2022
 Ona je uz objavu prikačila i protestnu notu Ministarstva vanjskih poslova BiH koja je nedavno upućena Hrvatskoj nakon što je procurila vijest da je Milanović u Sloveniji negirao genocid i haške presude, o čemu je "Slobodna Bosna" ranije detaljno izvijestila. 
Ambasador Hrvatske, po naredbi ministra Gordana Grlića Radmana, odbio je primiti protestnu notu, objavljeno je iz Ambasade. 
Milanović je i danas ponovio zahtjev da Hrvatska bude dio ili EUFOR-a ili NATO-a u BiH i poručio da se o tome ne pita ni Sarajevo, ni Beograd, ali ni Pariz.