O luksuznom stanu Stanije Dobrojević se u posljednje vrijeme dosta pisalo, a sada je ona otvorila vrata svog doma, ali je priznala da je zaljubljena.
– Na samom početku razgvora, Stanija se osvrnula na novac, te priznala da je novi dom papreno koštao.
– Nije bitno šta je skuplje, nego što je sve napravljeno lijepo i elegantno sa ukusom, bilo je malo rizično, ali toliko je sve lijepo ispalo, čak i ljepše nego što sam zamišljala. Inače, sve je bila moja ideja, tako da sam ponosna što je sve sprovedeno u dijelo. Ne volim da pričam o ciframa, to nikad ne radim, a koliko su koštali zidovi… Mnogo je koštalo da se opremi stan, nisam štedila, ali sve je ovo pokazatelj moje duše. Ovo je ipak moj intiman prostor. Moj prvi, djevojački stan bio je u sličnom fazonu, ali ovo je sad već malo zrelije. Useljenje je ove nedelje, radi se na dekoraciji, biće nešto posebno, a ovdje sem moje majke, brata i bivšeg dečka i budućeg- sadašnjeg niko nije dolazio. Tako će i ostati! Kakav je moj javni imidž, medijski sam stalno zastupljena, pod kamerama sam non – stop, privatno sam zatvorena i asocijalana, rijetko primam ljude u svoj intiman kutak – ističe Stanija, pa se dotakla svoje fakuktetske diplome koju ponosno drži u dnevnom boravku:
– Diploma Ekonomskog falulteta mi je naravno bitna, ipak je ovo rezultat moje borbe u ranim godinama, uopšte nije bilo lako na državnom fakultetu i završiti ga. Jeste da ga još uvijek nisam unovčila, nemam zaradu od te diplome, ali dobro, ima vremena. Jedino od fakulteta što sam stekla za dalje jeste disciplina i taj neki kliker za biznis, ali mislim da sam ipak rođena s tim. Da ću ikad raditi u svojoj struci, recimo u banci ili tako nešto – neću, ali da budem kao što već jesam ženski biznismen, apsolutno da – kaže Dobrojevićeva.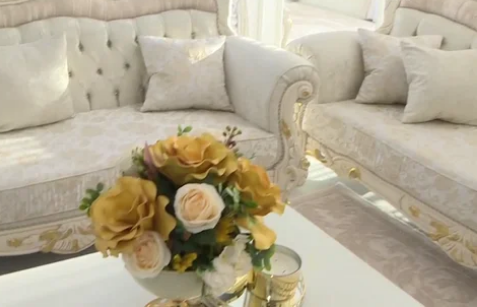 – Ovo je dnevna soba, dosta dugo sam čekala da stigne garnitura. Sto, tepih, kristalni lusteri, nekako sam dugo čekala da sklopim sve detalje jer nije bilo nabaviti ovdje ono što sam zamislila i željela. Imala sam mnogo muka, ne samo da sam uložila dosta novca, već i vremena, nerviranja, plakanja, suza… U jednom momentu sam rekla majstorima da ruše sve, nekada ne kapiraju moj neki svjetski fazon koji sam vidjela putujući po svijetu, tako da je ovdje u stanu bio ozbiljan rijaliti šou – otkriva bivša zadrugarka.
– Ja nisam tradicionalna kuharica koja kuha grah, da mijesim gibanicu… Svaki obrok pravim sama, iako su to uglavnom neki zdravi i dijetalni obroci, pravim najbolje "smutije" na svijetu, potaže i tako te neke laganije stvari koje idu uz moj način života i održavanje linije – ističe Stanija.
(express/kurir)