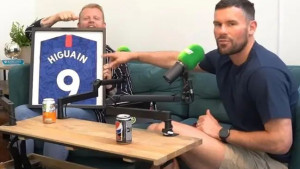 39-godišnjak, koji je osam puta branio za reprezentaciju Engleske, objavio je u svom najnovijem podcastu da je "rukavice okačio o klin".
Foster je bio bez kluba otkako je napustio Watford nakon njihovog ispadanja u Championship prošle sezone.
Reklama – nastavite čitati ispod oglasa
Prethodno je imao veliku ponudu od Newcastlea, koji je postao najbogatiji klub na svijetu nakon što je u oktobru prošle godine dovršeno preuzimanje vrijedno 300 miliona funti od konzorcija predvođenog Saudijskom Arabijom.
Svrake su se našle u maloj golmanskoj krizi, pustivši Martina Dubravku u Manchester United kao zamjenu Davida De Gee. Karl Darlow se povrijedio pa je klub želio još jednog golmana u redovima u slučaju da broj 1 Nick Pope ne bude dostupan.
Bivši čuvar mreže Manchester Uniteda, Birminghama i West Broma razmatrao je Newcastleovu ponudu, ali je odlučio da se ne isplati s obzirom da živi četiri sata vožnje od St. James' Parka.
Reklama – nastavite čitati ispod oglasa
Njegov saigrač je bio itekako nepažljiv
Čistio ormarić u svlačionici, a onda vidio na podu Higuainov dres: "Znao sam šta moram da uradim"
"Duboko u sebi nisam želio odbiti Newcastle, zvuči ludo i to je teško objasniti jer će postojati milioni ljudi diljem zemlje koji će reći 'upravo ti je ponuđen stvarno dobar ugovor od najbogatijeg tima na svijetu', ali jednostavno nisam to želio učiniti. Morao bih se odseliti od kuće, a to bi me ubilo", rekao je Foster.
Na kraju je Newcastle umjesto Fostera angažovao bivšeg golmana Liverpoola Lorisa Kariusa na besplatan transfer.
Foster, koji je počeo u lokalnom Racing Clubu Warwicku, upisao je ukupno 536 nastupa u karijeri, uključujući 390 u Premier ligi.
Foster je također odbio ponudu MLS tima Atlanta Uniteda ranije tokom ljeta i razgovarao s Nicom da postane zamjena Kasperu Schmeichelu, a na kraju se penzionisao, iako je ostavio mogućnost da jednog dana ponovo stane na gol i to u Sjedinjenim Državama.