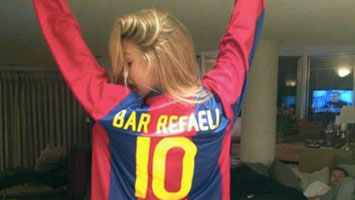 Navodno je razlog raskida bila Piqueova veza s 23-godišnjom Clarom Chijom Marti, koju trenutno defanzivac Barcelone i ne skriva.
Čini se, međutim, da to nije bila jedina Piqueova nevjera u vezi sa Shakirom. Prije 10 godina igrač Barcelone navodno je imao aferu s Bar Refaeli (37), poznatom manekenkom koja je nekoliko godina bila djevojka Leonarda Di Caprija.
Reklama – nastavite čitati ispod oglasa
"Problemi su nastali nakon što je Shakira kod Bar Refaeli pronašla Piqueove poruke, ali tu nisu stali. Bilo je i intimnih susreta.
Međusobna nesklonost između mene i Piquea traje nekoliko godina. Oduvijek sam znao šta radi oko Barcelone, zato što je to mali grad", kaže fotograf Jordi Martin, a prenosi Marca.
Reklama – nastavite čitati ispod oglasa