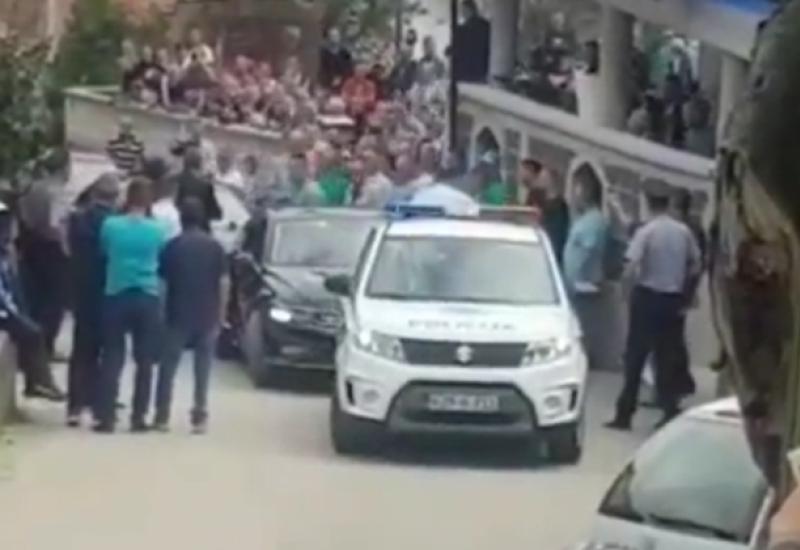 Tekst članka se nastavlja ispod banera
Foto: Screenshot / Uz pratnju policije
Bakir Izetbegović, predsjednik SDA i kandidat za bošnjačkog člana Predsjedništva BiH, punom parom juri kroz kampanju, a već se bilježe 'nepravilnosti' koje su očito dozvoljene samo ovoj stranci.
Tako je nedavno zabilježeno da je su simpatizeri SDA u čast Bakiru Izetbegoviću okrenuli na ražnju vola i to u haremu zeničke džamije. Reakcije Islamske zajednice BiH još uvijek nije zabilježena, piše raport.ba.
Pored uobičajenih komičnih obećanja Bakira Izetbegovića (npr. da će se boriti protiv korupcije) zanimljiv detalj zabilježen je nedavno na jednom skupu.
Na snimci koja je objavljen na društvenim mrežama vidi se dolazak Izetbegovića na skup. I to pod policijskom pratnjom.
Tako se vidi kako prvo dolazi terenac policije a iza njega (službeni!?) VW Passat iz kojeg izlazi Izetbegović.
Inače, policija je dužna osiguravati političke skupove, ali pratnja kandidata je nedozvoljena. Isto tako, prema novim izmjenama Izbornog zakona BiH korištenje službenih resursa u predizbornoj kampanji drastično će se kažnjavati.
Izetbegović je inače član rukovodstva Doma naroda BiH i za tu poziciju predviđeno je službeno vozilo, kao i osiguranje. Ništa od toga Izetbegović ne bi smio koristiti ne obnašajući navedenu funkciju, piše raport.ba.