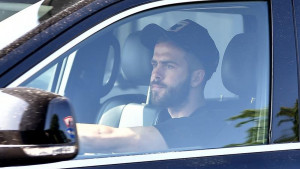 Pjanić je odradio odlične pripreme, pridobio je Xavijevu pažnju i trener Barcelone je odlučio da ga zadrži u ekipi što je nekoliko puta javno ponovio.
Ipak, kada je sezona počela stvari su se promijenile, ali na gore. Bh. reprezentativac nije dobio ni minut, tačnije sve je mečeve odgledao sa klupe.
Reklama – nastavite čitati ispod oglasa
U ponedjeljak se pojavila iznenađujuća vijest da će Pjanić nastaviti karijeru u Ujedinjenim Arapskim Emiratima nakon ponude Sharjaha FC.
Da je taj posao završen i da je pitanje kada će biti potvrđen govori i scena sa jutrošnjeg treninga Barcelone pred meč Lige prvaka sa Viktorijom Plzen.
⚡️ ⚡️
Morning training session at the Ciutat Esportiva Joan Gamper ahead of Wednesday's #BarçaViktoria in the @ChampionsLeague

̧ +
🖥 https://t.co/y4T6zDqzRN pic.twitter.com/OloBv2MBNR

— FC Barcelona (@FCBarcelona) September 6, 2022
Naime, Pjanić nije uopšte bilo u trening kampu Joan Camper i samim tim nije ni trenirao sa ekipom što je jasan znak da odlazi.
Reklama – nastavite čitati ispod oglasa
Posljednje vijesti govore da će bh. reprezentativac još danas otputovati u UAE, poslije čega slijedi ustaljena procedura, odnosno ljekarski pregledi i potpis ugovora.
Sasvim je jasno da za Pjanića počinje nova avantura i to daleko od najveće svjetske fudbalske pozornice gdje je proveo praktično cijelu karijeru.
Transfer sve izvjesniji
Pjanić u UAE ne odlazi za basnoslovnu cifru, u Barceloni je zarađivao daleko više
Popularnog Mireta više nećemo gledati u Ligama petice, ali i Ligi prvaka gdje je igao dugi niz godina kao član Rome, Juventusa, Barcelone i Bešiktaša.
Sa Sharjahaom će potpisati ugovor na tri godine. Špekuliše se da bi po sezoni trebao zarađivati tri miliona eura.