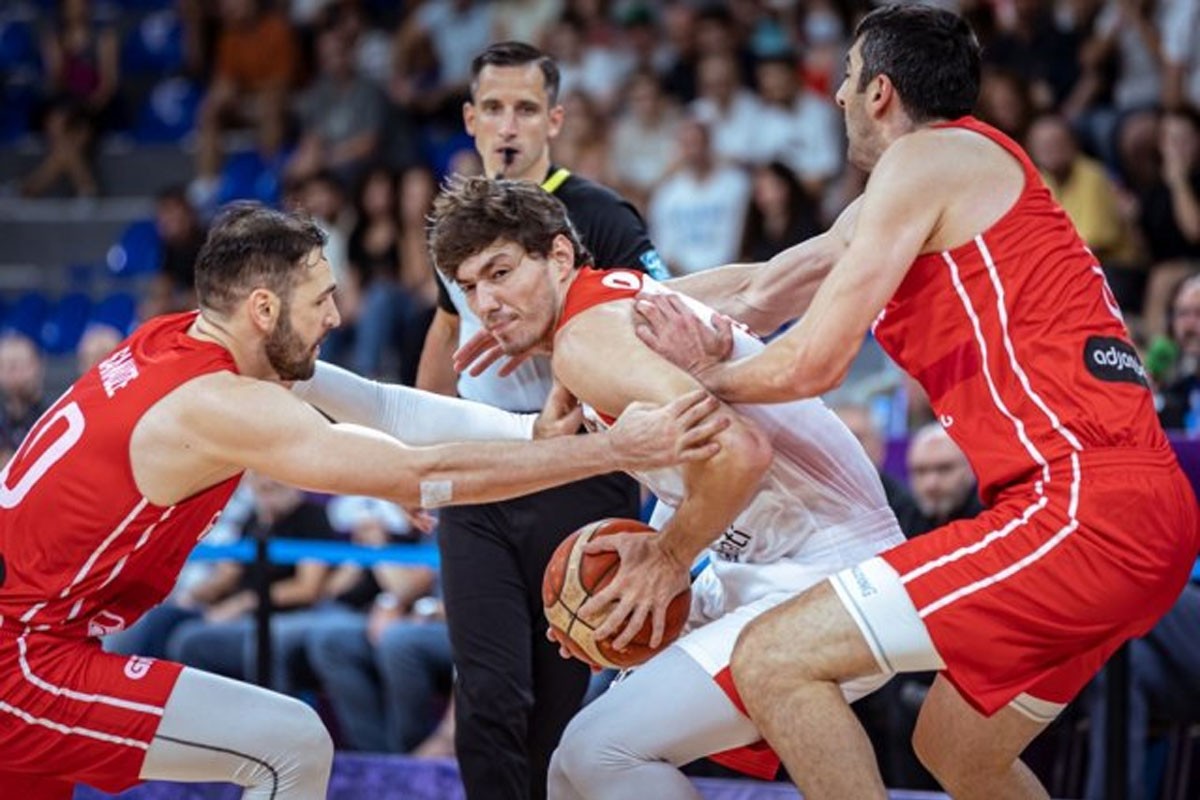 Košarkaši Gruzije priredili su novo iznenađenje na Evropskom prvenstvu ove nedjelje.
Savladali su favorizovanu Tursku 88:83, poslije dva produžetka na svom terenu u Tbilisiju.
To je Turskoj prvi poraz u Grupi A, zbog koga je izgubila prvo mjesto na tabeli, dok je Gruzija zabilježila prvu pobjedu.
Gruziju je do senzacionalne pobjede predvodio Sandro Mamukelašvili sa dabl-dablom od 20 poena i 12 skokova.
Mamukelašvili je pogodio jednu od ključnih trojki za pobjedu, za 84:81 na minut i po prije kraja produžetka.
Nakon serije promašaja, Osman je faulirao Mamukelašvilija, zbog čega je dobio namjernu ličnu, što je iznerviralo selektora Turke Ergina Atamana.
Nije uspio da obuzda bijes iako ga sudije nisu odmah sankcionisale, pa je zatim dobio tehničku i isključujući faul.
To je omogućilo Mekfadenu i Andronikašviliju da "ovjere" veliku pobjedu domaćina.
Mamukelašvilija je najbolje pratio Tadeus Mekfaden sa 17 poena i šest skokova, po 15 su postigli Rati Andronikašvili i Giorgi Šermandini uz sedam skokova, dok je 13 poena i osam uhvaćenih lopti imao Duda Sanadze.
Najefikasniji u selekciji Turske bio je Alperen Šengun sa 21 poenom i devet skokova, 15 je postigao Sertač Šanli uz takođe devet uhvaćenih lopti, Osman je dodao 13 poena uz šest skokova, ali i samo dvije trojke iz deset pokušaja.
Dvocifren učinak je imao još Melih Mahmutolu uz 1/5 za tri, dok je očajnih 2/10 imao i Šejn Larkin koji je meč završio sa devet poena, osam skokova i sedam asistencija, ali i pet izgubljenih lopti.
U sljedećem kolu Turska igra s Belgijom, koja je u nedjelju šokirala Španiju, dok će Gruzija sa Bugarskom tražiti pobjedu koja će ih uključiti u borbi za nokaut fazu.