Bivša supruga Miše Kovača, Anita Baturina, ne pojavljuje se često u javnosti, a sada je u svom domu u Splitu pozirala fotografima Pixsella.
Anita je bila je tinejdžerska Miss Jugoslavije, a Mišo ju je odveo pred oltar 1973. godine. Ona mu je bila druga supruga, dok mu je prvi brak s Ljubicom Komadinom kratko potrajao, a ostavio ju je upravo zbog Anite.
Bila je to fatalna ljubav, a Anita je zbog Miše sa svega 17 godina pobjegla iz porodičnog doma. Par je u braku dobio dvoje djece, Kćerku Ivanu i sina Edija i živjeli su u skladu sve dok ih nije zadesila porodična tragedija.
U travnju 1992. godine njihov sin Edi iznenada je poginuo. Edi je poginuo pod okolnostima koje nikada nisu razriješene do kraja.
Anita se nakon strašne tragedije okrenula vjeri, Mišo je tragao za istinom, a ubrzo nakon raspada neutješne porodice, 1999. godine, legendarni pjevač sebi je pokušao oduzeti život u svom zagrebačkom stanu, no kada je shvatio da je i dalje živ, nazvao je svog menadžera te mu javio što se dogodilo. Tada je hitno prebačen u bolnicu "Rebro" u kojoj je operiran te mu je tako spašen život. Iako je preživio, Mišo je u kasnijim intervjuima isticao kako mu tada nije bilo do života zbog tuge za sinom koja je jednostavno bila prevelika te ga je i natjerala na takav radikalan potez.
U to vrijeme pjevač je bio u novoj vezi s vidovnjakinjom Silvijom Conte Calvi Marković, dok se Anita nakon razvoda preselila u Tribunj te započela život s drugim muškarcem.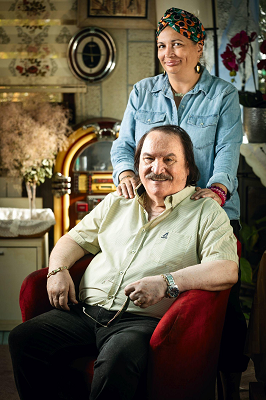 Mišo je treću sreću pronašao s Lidijom Pintarić, koju je upoznao na svom zagrebačkom koncertu u jednom poznatom noćnom klubu davne 1998. godine, a ona je otkrila kako je to bila ljubav na prvi pogled. Vjenčali su se 2002. godine i njihova ljubav još traje, a Mišo je često isticao kako mu je voljena Lidija bila spas nakon brojnih životnih nevolja, ali i ranijih ljubavnih brodoloma.
(express/dnevnikhr)