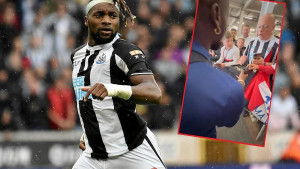 Saint-Maximin je jedan od najplaćenijih igrača u Newcastleu i jasno je da zarađuje ogroman novac, ali je pokazao da mu očito nije problem da ga troši i uveseljava što više ljudi oko sebe.
Francuz se prije desetak dana našao u centru pažnje kada je jednom navijaču Newcastlea poklonio zlatni Rolex sat čime je šokirao sve, a ni sam navijač nije moga da vjeruje šta se dešava.
Reklama – nastavite čitati ispod oglasa
Saint-Maximin je davao autograme navijačima Newcastlea, a onda je otišao do autobusa i donio je kutiju s Rolexom i dao ga navijaču koji je bio tu sa svojim sinom.
Međutim, da to nije bila samo slučajnost fudbaler Newcastlea je ponovo pokazao. Saint-Maximin je i ovaj put oduševio englesku javnost i dobio je je sjajnu podršku zbog toga što radi.
Reklama – nastavite čitati ispod oglasa
Naime, prije nekoliko dana Saint-Maximin je bio u jednoj radnji s dječijim igračkama i poveo je 100 mladih navijača Newcastlea i svakom od njih je kupio igračku, a onda je platio račun i za ostale kupce u radnji.
Račun koji je Saint-Maximin platio iznosio je skoro 10.000 funti, ali njemu to uopšte nije bio problem, te je djeci rekao da mogu uzeti bilo koju igračku bez obzira na cijenu.
Allan Saint-Maximin, one of a kind 👏🏻👏🏻👏🏻 #NUFC pic.twitter.com/e9UQaQ5A4v

— Adam Pearson (YT) ⚫️⚪️ (@AdamP1242) August 20, 2022
Javnost u Engleskoj oduševljena je potezima fudbalera Newcastlea, te su poručili da se i ostale zvijezde Premiershipa trebaju ugledati na ovog momka.
Saint-Maximin takes 100's of Newcastle fans to a toy shop is one of the most insane things you will ever see #NUFC pic.twitter.com/Xj1A0zAbvP

— Adam Pearson (YT) ⚫️⚪️ (@AdamP1242) August 20, 2022