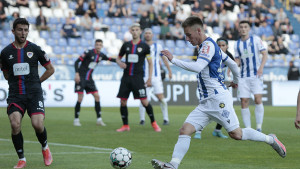 Borac je uspio s dva gola u prvom dijelu trasirati put ka pobjedi, a gosti iz Sarajeva su preko Štilića u 77. minuti iz penala nakratko dobili nadu da mogu izbjeći poraz. Međutim, ostalo je 2:1 i Borac je upisao bitna tri boda.
Edis Mulalić, trener Plavih sa Grbavice, na press konferenciji se indirektno dotakao suđenja, dok njegov kolega Nenad Lalatović nije htio da govori o sudijama.
Reklama – nastavite čitati ispod oglasa
"Dosta intenzivna utakmica. U samoj pripremi smo imali problem jer se povrijedio jako bitan igrač, Hodžić. Imali smo situaciju da povedemo, ali nismo uradili kako treba. To nam se dešava ne prvi put. Poslije smo sami sebi dali gol, ostavimo Zakarića da sam centrira… Drugo poluvrijeme smo morali rizikovati. Pokazali smo htjenje, bili smo blizu izjednačujućem pogotku. Malo je i teren i vrijeme uticalo na kvalitet same utakmice. To je nešto u kratko, vruće glave. Kad smo dali gol za 2:1 bila je završena utakmica. Ko je pametan zna šta govorim", rekao je Edis Mulalić na pres konferenciji nakon utakmice.
"Mi smo prvo poluvrijeme odigrali sjajno. Bili smo bolji protivnik, mada je Željo imao tu stativu na početku. Poslije toga smo mi postigli pogodak. Poslije drugog kola smo mogli da završimo utakmicu, da je Kulašin dao jedan na jedan. Nakon toga Željo je rizikovao, ubacio ofanzivnije igrače. Primili smo gol za 2:1, a mogli smo i da damo mi treći kada je Begić imao povratni pas. Ne volim da komentarišem suđenje, a kad bih komentarisao mogao bih da kažem da smo mi toliko puta oštećeni", rekao je Lalatović.
Borac će već u petak igrati protiv Leotara, ali domaćinstvo je zamijenjeno pa će se meč vjerovatno igrati u Novom Gradu, a ne u Trebinju, dok istog dana Željezničar na Grbavici dočekuje Sarajevo u velikom derbiju.
Nakon nepotpunog šestog kola, Široki je lider sa 11 bodova nakon remija večeras sa Slogom, pa slijede Tuzla City, Borac i Sarajevo sa po 10 bodova. Peti je Željezničar sa osam bodova.