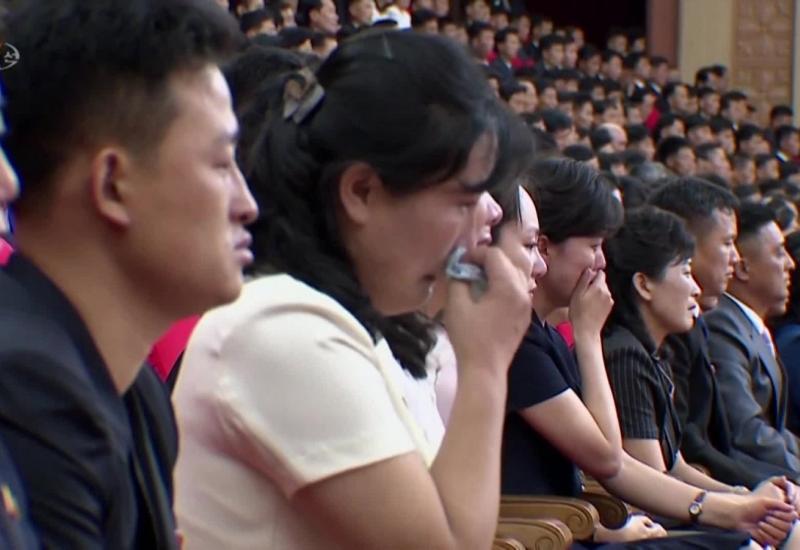 Tekst članka se nastavlja ispod banera
Foto: Screenshot / Stanovnici Sjeverne Koreje rado plaču, bilo od tuge ili od radosti…
Sjevernokorejski čelnik Kim Jong-un proglasio je u srijedu "očitu pobjedu" u borbi s covidom budući da je i sam bio bolestan.
Sjeverna Koreja, koja je bila među prvim zemljama koje su u siječnju 2020. godine zatvorile granice nakon pojavljivanja virusa u susjednoj Kini, prijavila je prvi slučaj koronavirusa 12. svibnja, a Kim Jong-un je osobno nadzirao suzbijanje epidemije.
Sjeverna Koreja je od kraja travnja imala gotovo 4,8 milijuna "slučajeva groznice", što je izraz koji su upotrebljavali za bolest, i samo 74 umrla, što je službeno stopa smrtnosti od 0,002 posto, izvijestila je tamošnja državna agencija KCNA.
Vođa je imao visoku temperaturu dok se nalazio u karanteni, ali ni na trenutak nije mogao leći jer je razmišljao o onima za koje je odgovoran, rekla je sestra Kim Yo-jong, prenosi Net.hr.
Video: Kim Jong Un Had COVID?: North Korean Audience Breaks Into Tears During Kim Yo Jong's Speech
Ovo je prvi put da je Pjongjang priznao da je Kim Jong-un, čije zdravlje je tema od najvećeg interesa promatrača, bio zaražen koronavirusom.
Kim Yo-jong je ujedno optužila Južnu Koreju da je odgovorna za epidemiju u njezinoj zemlji koju je širila, kako je to rekla. propagandnim letcima i balonima.
Nazvala je to zločinom protiv čovječnosti i zaprijetila Seulu snažnom odmazdom.
U međuvremenu su društvenim mrežama počele kružiti snimke suza članova partije, prizori uz koliko su tuge ti ljudi ispratili informaciju da je veliki vođa brinuo o narodu čak i u trenucima kada mu samom nije bilo dobro.