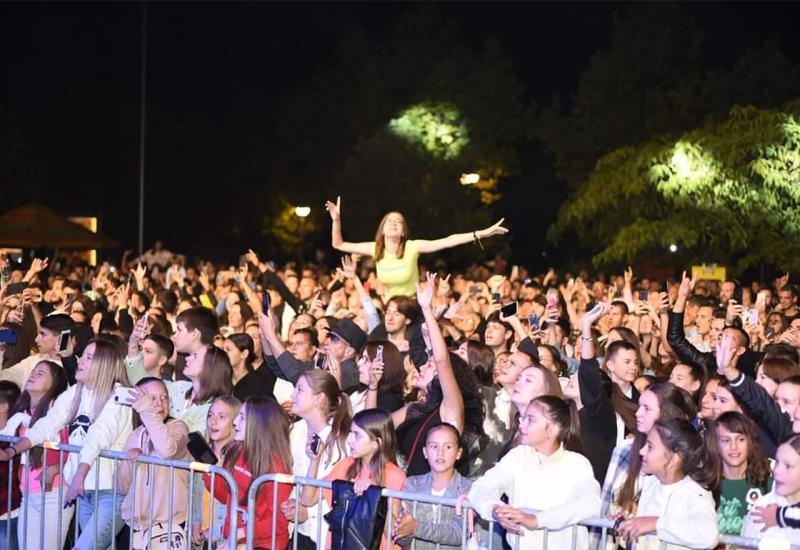 Tekst članka se nastavlja ispod banera
Rijetki su glazbeni događaji koji okupe nekoliko tisuća posjetitelja svih generacija na jednom mjestu.
Upravo jedan takav zbio se sinoć u Posušju, a glavni krivac za to je bilo legendarno Prljavo kazalište.
Sve je krenulo u 21:00 sat kada je na pozornicu izašla domaća grupa Prosta priča koja je kroz sat vremena čistog rock n rolla publiku i atmosferu zagrijala za nastup Houre, Bodaleca i ostatka benda.
Nepogrešivo izvedenim pjesmama, iz dijela bogatog repertoara, pokazali su zašto opstaju na vrhu rock glazbene scene u regiji punih 45 godina, a sudeći po energiji nijhova glazbena priča će još dugo trajati.
Foto: PR / Koncert Prljavog kazališta u Posušju
Sve to je prepoznala i publika. Njih preko 6000 tisuća iz Posušja, Hercegovine, Dalmacije pa i iz udaljenijih krajeva BiH i Hrvatske preplavili su prostrani plato oko pozornice kao i dio okolnih ulica.
Kada su krenuli prvi rifovi Prljavaca prolomio se gromoglasan pljesak, a potom su gotovo cijeli set pjesama otpjevali u jedan glas. Ne zovi mama doktora, Mi plešemo, Crno bijeli svijet, Sve je lako kad si mlad, Marina… samo je dio antologijskih hitova koji su publiku i atmosferu doveli do usijanja.
Nezaobilazni rekviziti publike bile su svjetiljke i upaljači te njihanje u ritmu legendarnih balada Mojoj majci, Lupi petama, Tu noć kad si se udavala, čime su stvarali poseban vizualni doživljaj.
Foto: PR / Koncert Prljavog kazališta u Posušju
Iz pjesme u pjesmu, od kasnih sedamdesetih do današnjih dana, nakon ukupno tri sata glazbenog spektakla Prljavci su pozdravili publiku koja je ponovila zasluženi gromoglasan pljesak s početka večeri i time ispratila glazbene legende s posuške pozornice.
Dobre vibracije koje su se i sinoć širilie s Trga hrvatskih branitelja, ujedno su glazbena kuliminacija ovogodišnje manifestacije Posuško lito, koja je svome Posušju priredila ovaj koncert za pamćenje. U tome su sponzorski pomogli tvrtke Planet i Pro stage.
Prljavcima i njihovoj publici želimo još puno zajedničkih druženja, a sve sinoćnje i neke nove posjetitelje pozivamo da već sada predbilježe približan datum i za sljedeću godinu te budu dio nove vrhunske glazbene priče iz Posušja!