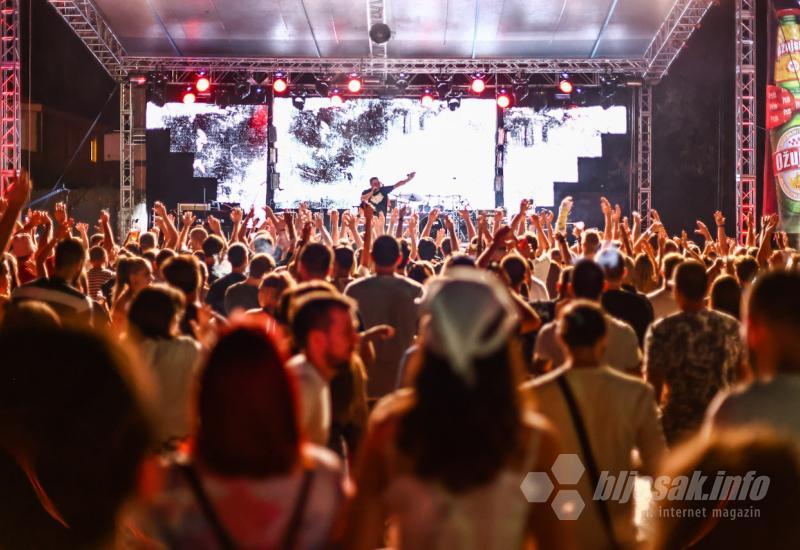 Tekst članka se nastavlja ispod banera
Drugu večer Mostar Summer Festa u petak 5. kolovoza otvorio Z++ redanjem svojih hitova Kabriolet, Magija, Crno + Zlatno, da bi pedesetominutni set jednoglasnog pjevanja s publikom bio zaokružen hitom Ljeto već je gotovo.
Na stage je potom, kao da uskače u ring, uletio Smoke Mardeljano. Fajterski je odradio svoj set, bila je to stara škola repa za mnoštvo oduševljenih fanova u
Foto: Denis Kapetanović/Bljesak.info / Druga večer 10. izdanja Mostar Summer Festa
prvim redovima. Smoke je još jednom pokazao koja je to definicija pravog MC-ja.
Atmosfera je došla do vrhunca kad su na stage izašli Prljavci. U formi kao i svih prethodnih 45 godina karijere, Prljavo Kazalište je nastup otvorilo s Ipak. Bodalec je gestikulirao za mikrofonom proživljavajući svaki stih, Houra je prašio gitaru, dok je bend tutnjao kroz sve te veličanstvene hitove. Oduševljena publika je pružala ovacije, skakala i zviždala, palila baklje, da bi se na Marini na stage probile djevojke, otpjevavši pjesmu s bendom. Neumorni Prljavci su veličanstveni nastup završili s Mi plešemo.
Foto: Bljesak.info / Prljavci na sceni
Bogata druga večer Mostar Summer Festa je završila fenomenalnim nastupom Repetitora. Beogradska trojka je moćna alt-rock mašina koja je na parter Kantarevca donijela zvuk što ruši sve pred sobom. Njihov nastup je bio savršena rock svetkovina, završena s brutalnim rifovima Kosti i kože.
"Hoću da živim na festivalu!", kazala je Petra, mostarska studentica, inače, iz Metkovića.
Foto: Bljesak.info / Publika u transu
Program večerašnje finalne večeri će otvoriti Živac Maradona koji na fest donosi žilet oštru liriku bez dlake i pardona, potom će šou nastaviti urnebesna trojka Frenkie, Kontra, Indigo.
Nakon njih premijerno se na stage Mostar Summer Festa penje pančevački duo Buč Kesidi – najveća regionalna rock atrakcija posljednjih godina, što je savršena uvertira za legendarnu nišku Galiju koja nam donosi pregršt hitova uz koje smo rasli i voljeli. Točku na i 10. MSF-a će staviti Krankšvester uz potpunu slobodu da njihov rep šou bude namjerno vulgaran, provokativan, satiričan i sarkastičan.
Foto: Denis Kapetanović/Bljesak.info / Druga večer 10. izdanja Mostar Summer Festa
Festivalske kapije se i danas otvaraju u 19h, a ulaznice je moguće kupiti na samom ulazu u festivalsku zonu ili putem linka kupikartu.ba.