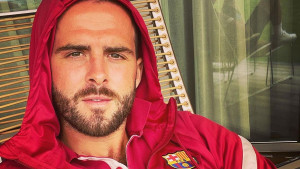 Iako se uveliko govorilo kako će 20-godišnji veznjak otići negdje na posudbu, Xavi je na kraju ipak donio odluku da Nico ostane i da se bori za svoje mjesto u timu.
S obzirom na to da Nico kao i Miralem Pjanić pokriva poziciju centralnog veznjaka, odmah su počele špekulacije o sudbini bh. fudbalera. Međutim, Pjanić može biti miran.
Reklama – nastavite čitati ispod oglasa
Španski mediji navode da ostanak mladog veznjaka neće utjecati na status 32-godišnjeg reprezentativca Bosne i Hercegovine o čijoj sudbini će trener katalonskog velikana odluku donijeti do kraja sedmice.
Navodno, Pjanić je trenutno mnogo bliži ostanku nego odlasku, ali treba sačekati da vidimo šta će Xavi na kraju odlučiti. Odluka će stići jako brzo.
Što se tiče Nica Gonzaleza on će do januara imati šansu da se dokaže. Ako se ne uspije nametnuti izvjesno je da će otići na posudbu.
Nico Gonzalez je za prvi tim Barcelone debitovao u augustu prošle godine u utakmici protiv Real Sociedada. Ubrzo je došao i prvi gol, a postigao ga je 12. decembra protiv Osasune.
Reklama – nastavite čitati ispod oglasa
Ukupno je ovaj talentovani 20-godišnjak odigrao 37 utakmica za prvi tim katalonskog velikana i postigao je ukupno dva gola.
Sada će mladi veznjak dobiti šansu da se dokaže. Ima dovoljno vremena da to učini i da pokaže sve svoje kvalitete koje bez ikakve sumnje postoje.
Treba svakako istaći da je Nico Gonzalez sin dobro poznatog Frana Gonzaleza. Njegov otac je legenda Deportiva, a ujak mu je još jedan bivši fudbaler Jose Ramon.
Za ljubitelje sportske kladionice Volcanobet nudi sjajne kvote za sve mečeve, a pred nama su interesantni dueli u okviru kvalifikacija za evropska takmičenja, ali i na programu su desetine vrhunskih prijateljskih mečeva, kao i mečevi u brojnim evropskim ligama koje su počele ovih dana. Kompletnu ponudu možete pronaći na sajtu Volcanobet kladionice ili klikom OVDJE.
Zapratite Volcanobet kladionicu na Facebook i Instagram profilu.