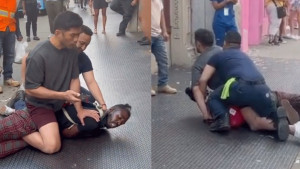 Pravi primjer tome je kontroverzni 'Iranski Hulk' Sajad Gharibi koji je brutalno pretučen u svom bokserskom debiju od strane 'Kazahstanskog Titana' te je postalo jasno da od njegove borilačke karijere nema ništa.
Zanimljiv snimak pojavio se prethodnih dana na društvenim mrežama. Dolazi iz jedne teretane iz Sjedinjenih Američkih Država gdje je vlasnik dvorane prebio umišljenog člana koji se ušetao unutra.
Reklama – nastavite čitati ispod oglasa
Dosadna mušterija odlučila je da on bude glavni u teretani. Uznemiravao je ostale članove, pokušao je da 'dijeli pravdu', ali bolje da nije.
Nije nesretnik stigao ni da napumpa mišiće. Došao je u sukob s vlasnikom dvorane i brutalno je nokautiran. Nije nezasluženo jer je bio poprilično bezobrazan prema svima.
Snimak pokazuje samu završnicu svađe. Vlasnik teretane je odlučio da ga silom izbaci vani i u tome je uspio i to na kakav način.
Reklama – nastavite čitati ispod oglasa
Nije nesretni čovjek ni stigao izgovoriti riječi koje je zaustio: "Nećeš ti ništa napraviti". Uslijedili su udarci koji su ga poslali na pod i nokautirali.
gettin slumped in the gym is crazy pic.twitter.com/f7s4CGiI7R

— WILD FIGHTS AND CRAZY VIDEOS🔥🧟‍♂️ (@ItsTheFightZone) July 24, 2022
A oni su bili zaista žestoki. Bahati momak ostao je ležati uspavan u prostorijama teretane i teško da će se ikad više vratiti na ovo mjesto.
Nije poznato šta se kasnije dogodilo. Pitanje je kada se ovaj čovjek probudio iz nokauta koji je bio zaista strašan i jedan od najjačih van profesionalnog ringa.
Vlasnik dvorane i teretane je nekadašnji bokser. Pokazao je da još uvijek itekako dobro barata rukama i da bi vrlo kako mogao i sad ući u ring.
Luda scena s ulica New Yorka
Kukavički napad na radnike nije ostao nekažnjen: BJJ majstor u velikom stilu zaustavio nasilnika
Naravno, na ovakav način se nesporazumi ne trebaju rješavati. Ipak, vlasnik nije mogao da trpi bezobrazno i bahato ponašanje i odlučio se na ovakav način da krene u akciju.