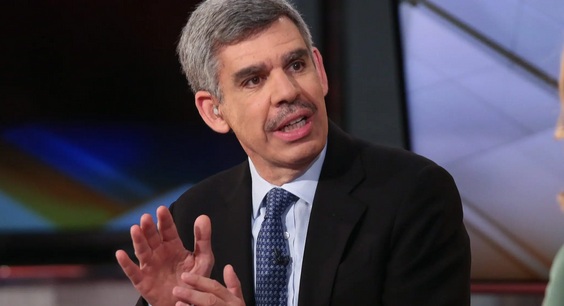 Vrhunski ekonomista Mohamed El-Erian rekao je da je inflacija najvjerovatnije dostigla svoj plafon u SAD-u nakon što je prošlog mjeseca upozorio da tek treba da bude na vrhuncu.
On je napomenuo da globalna ekonomija ubrzano usporava, dok centralne banke pooštravaju politiku, što bi trebalo da utiče na inflaciju.
"Mislim da je inflacija dosegla vrhunac u SAD-u, barem u naredna tri do četiri mjeseca. Moramo vidjeti koliko su neki elementi ljepljivi. Ali problem nije u tome što će se inflacija smanjiti, što je stvarno dobra stvar. Problem je u tome što će se inflacija srušiti sa rastom koji će vjerovatno otići u recesiju, a to nije dobra vijest", rekao je El-Erian za CNBC.
Komentari ukazuju na promjenu u stavovima za pažljivo praćenog komentatora, jer je prošlog mjeseca rekao za Bloomberg da visoke cijene imaju više prostora.
U to vrijeme, on je tačno predvidio da će inflacija u maju premašiti 8,5 posto i da će nastaviti da se ubrzava, navodeći brz rast cijena energije i sve veće pritiske. Naime, indeks potrošačkih cijena za maj je pokazao rast od 8,6 posto, a zatim se još više popeo na 9,1 posto u junu.
Međutim, dodao je da inflacija vjerovatno neće dostići vrhunac već u julu. "Prerano je reći da je inflacija dostigla vrhunac", rekao je prošlog mjeseca.
Od njegove prognoze početkom juna, cijene gasa su u stalnom padu više od mjesec dana, što ukazuje na to da bi inflacija uskoro mogla slijediti taj primjer.
U međuvremenu, El-Erian je u petak u posebnoj kolumni naveo da Federalne rezerve moraju poboljšati svoju analizu, prognoze, političke odgovore i komunikaciju, ili u suprotnom rizikuje da napravi još grešaka u politici.
"Postoje znakovi da globalna ekonomija usporava na brz način, a centralne banke rastu i vrše [kvantitativno zaoštravanje] u usporavanju ekonomije, a to samo pojačava grešku politike u kojoj smo usred u odnosu na centralne banke", napisao je.