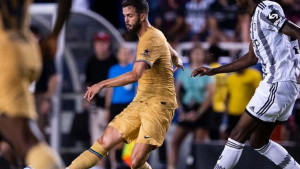 Konačnu odluku o njegovoj sudbini trener Barcelone donijet će nakon povratka tima iz Sjedinjenih Američkih Država i znat će se hoće li računati na njega u novoj sezoni.
Pjanić vjeruje da ima kvalitet da ostane u klubu. To je ponovo naglasio u izjavi od prije nekoliko dana.
Reklama – nastavite čitati ispod oglasa
"Vratio sam se u Barcelonu, imam ugovor do 2024. godine i planiram ga odraditi do kraja. Ove sezone krećem iznova s novim trenerom, Xavijem. Nadam se da će sezona biti dobra i za mene i za tim", rekao je Pjanić i dodao:
Reklama – nastavite čitati ispod oglasa
Xavi zadovoljan nastupom bh. fudbalera
Miralem Pjanić oduševio igrom u remiju Barcelone i Juventusa, Real bez pobjede protiv Meksikanaca
"Tokom odmora sam radio s ličnim trenerom. U Barci imate nekoliko vrhunskih fudbalera, tako da morate biti u najboljoj mogućoj formi. Došlo je vrijeme da navijačima pokažem 'starog' Miralema. Spreman sam za osvajanje trofeja sa svojim saigračima i trenerom Xavijem", dodao je bh. veznjak.
"Ja nisam imao mnogo sreće u prethodne dvije godine. Prvo sam bio pozitivan na korona virus, a zatim sam imao i nekoliko povreda. Vjerujem da ću se sada vratiti na prijašnji nivo".
Reklama – nastavite čitati ispod oglasa
Pjanić je dakle uvjeren da može ostati u Barceloni, a ako se to ne desi bh. veznjak neće imati previše problema u pronalasku tima jer ima nekoliko zaista unosnih ponuda.
Već je poznato da bi ga rado u svojim redovima vidio Al Nassr iz Saudijske Arabije, a novinar blizak Barceloni Gerard Romero tvrdi da Pjanić na stolu ima bogate ponude i iz Katara te iz američke MLS lige. Imena klubova nije spominjao.
Također, Romero navodi kako je i Napoli veoma zainteresovan za 32-godišnjeg fudbalera. Ipak, oni ga mogu dovesti samo kao slobodnog igrača jer nemaju namjeru da plaćaju odštetu i ova opcija za bh. veznjaka je za sada poprilično daleka.
Sudbina Miralema Pjanića bit će poznata početkom augusta i ostaje nam da čekamo odluku Xavija.