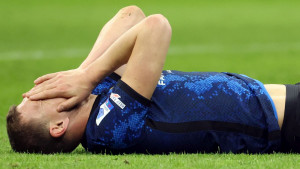 Džeko je ugovorom s Nerazzurrima vezan do kraja ove sezone, a dolazak u klub Romelua Lukaku znači i da će bh. fudbaler imati manju minutažu u odnosu na prošlu sezonu.
Edin bez problema može promijeniti klub ako to želi. Interes za njegovim uslugama je ogroman i u prethodnom periodu se povezivao s brojim klubovima, među kojima su Juventus, Everton, Borussia Dortmund, Leicester i Wolverhampton.
Reklama – nastavite čitati ispod oglasa
Nakon utakmice s Lensom
Oronuli starac, mumija i mnogo toga još: Navijači Intera brutalno o Edinu Džeki
Reklama – nastavite čitati ispod oglasa
Međutim, Džeko nema namjeru da napusti Giuseppe Meazzu. Dokaz tome je informacija koju je donio ugledni italijanski novinar Nicolo Schira.
On navodi da je Edin u proteklih sedam dana odbio čak tri ponude koje su došle na njegovu adresu. Nije naveo imena klubova, ali jasan je to stav da ne želi napustiti Inter i izvjesno je da ćemo ga u crno-plavom dresu gledati do kraja ugovora.
Reprezentativac Bosne i Hercegovine je član tima iz Milana postao prošlog ljeta. Stigao je iz Rome kao slobodan igrač.
Džeko je prošle sezone za Inter odigrao ukupno 48 utakmica u svim takmičenjima. Imao je sjajan učinak od 17 golova i 10 asistencija.