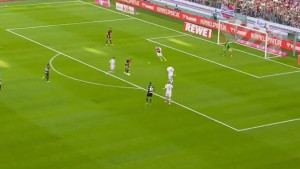 Aktuelni prvak Italije do trijumfa nad njemačkim bundesligašem stigao je golovima Oliviera Girouda koji je postigao dva zaista fenomenalna pogotka.
Reklama – nastavite čitati ispod oglasa
Posebno je prvi bio impresivan. Asistenciju petom iskoristio je Giroud, podigao je loptu vrhom kopačke pred golmanom Kolna i zatim se ušetao u gol.
Na sjajnu asistenciju Rebića
Olivier Giroud ne zna postići normalan gol: Ova majstorija izazvala je velike ovacije s tribina
Reklama – nastavite čitati ispod oglasa
Na ovom meču isprobana je i video tehnologija na igračima. Jedan od fudbalera Kolna nosio je kameru na sebi i bio je u akciji u kojoj je Giroud postigao pogodak.
Giroud's first goal from a bodycam pic.twitter.com/vFbaoyE0TU

— CHAMPIONS OF ITALY (@_InsideMilan) July 16, 2022
Sve to iz ovog ugla izgleda zaista nevjerovatno. Gledaoci na ovaj način dobijaju dodatno iskustvo gledanja utakmice i ovakvo nešto bi moglo postati svakodnevnica u budućnosti.
Fudbal se jednostavno mora prilagođavati savremenim tehnologijama. Svi žele isprobati neka nova iskustva, a na vama je da odlučite predstavlja li vam zadovoljstvo da gledate utakmice i iz ovakve perspektive.