Šta je emocionalna glad?
Emocionalna glad lažan je osjećaj gladi koji se može pojaviti u bilo kojem dobu dana, iako smo prije toga imali obilan obrok. Ljudi koji imaju ovaj problem jedu kada su žalosni, sretni, ljuti ili uzrujani, i to je jedan od njihovih načina nošenja s problemima i promjenama raspoloženja. Prema istraživanju objavljenom u nutricionističkom časopisu "Nutration Update", od emotivne gladi češće pate žene negoli muškarci. Uzroci ove pojave mogu biti brojni, ali u većini slučajeva je riječ o potisnutom i nagomilanom stresu, umoru ili pak prejedanju iz dosade. Naime, kada se nađemo u situacijama koje izazivaju stres, živčanost, nemir ili nam stvaraju problem, hrana može biti privremeni izlaz. To se može dogoditi kad se suočavamo s negativnim osjećajima.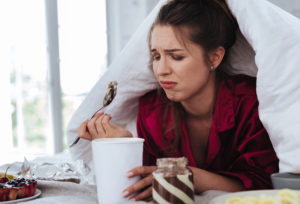 Kako prepoznati emocionalnu glad?
Iako ovu pojavu ponekad nije lako prepoznati, postoje neki znaci koji upućuju na to da je riječ o emocionalnom prejedanju:
Jedete uvijek kada ste pod stresom.
Posežete za hranom kada vas neko iznervira ili se osjećate tužno.
Kada počnete da jedete, ne možete da se zaustavite.
Ne uživate u hrani, jer vam jedenje izaziva konstantan osjećaj krivice.
Posljedice prejedanja za zdravlje ovise o tome kako često i koliko jedemo. One mogu biti različite, a najgore su potpun gubitak kontrole i samonadzora, što dovodi do bulimije. No, to nije prvo što nam se događa. Prvo dolazi debljanje, koje može biti opasno i dovesti do metaboličkih i hormonskih promjena te bolesti kao što su dijabetes, visoki holesterol, visok pritisak, neplodnost i višak masnih kiselina.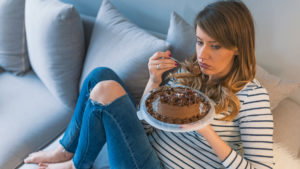 Kako riješiti problem?
Prvo što trebate učiniti jeste razmisliti o onome što vam se dešava. Razgovarajte sa sobom zašto vam treba određena hrana. Osim toga, korisno će biti da vodite dnevnik ishrane, zapisujte šta ste sve pojeli u toku dana, koje namirnice i najvažnije od svega zapišite kako ste se u tom trenutku osjećali.
Regulirajte stres, to možete učiniti šetnjom, tehnikama disanja ili laganim vježbama.
Odlučite se za raznovrsnu i uravnoteženu prehranu, bez posebnih zabrana, i strogo se držite mjere, uživajući tek povremeno u hrani koju najviše volite. Pripremite zdrave grickalice, smoki, čips i slatkiše zamijenite porcijom svježeg voća ili kokicama s malo ulja.
The post Emocionalna glad: Zašto jedemo kada nismo gladni? appeared first on Azra Magazin.