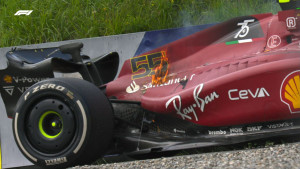 Vozač Ferrarija je u sjannoj utrci slavio ispred Maxa Verstappena i tako pokvario slavlje Red Bullu na njihovoj stazi koja i nosi naziv Red Bull Ring.
Reklama – nastavite čitati ispod oglasa
Vozač iz Monaka je zasluženo stigao do trijumfa, a tokom utrke je tri puta mestralno prestigao Maxa Verstappena, jednom je to učinio fenomenalnom bravurom na kočenju, kada Maxu nije pomogla i defanzivna putanja.
Kako je borba Leclerca i verstappena izgledala pogledajte u narednom videu.
Reklama – nastavite čitati ispod oglasa
A hat-trick of overtakes for Charles Leclerc 💪#AustrianGP #F1 pic.twitter.com/coLQbKutuP

— Formula 1 (@F1) July 10, 2022
Inače, utrku je obilježilo i odustajanje drugog vozača Ferrarija Carlosa Sainza koji je u momentima napada na Maxa Verstappena morao zaustaviti bolid kraj staze zbog kvara.
Odmah nakon zaustavljanja bolid se našao u plamenu, a Sainz se jedva izuvkao tako da je izbjegnuta velika tragedija u Austriji.
Leclerc je sada smanjio zaostatak za Verstappenom u ukupnom poretku na 37 bodova.