Da je u braku estradnog para Goge i Marka Gačića veoma zanimljivo i da je strast i dalje jaka i sami su potvrdili priznjanjem da se vole kao prvog dana, ali i objavama na društvenim mrežama koje često bude veliku pažnju javnosti. Ipak, posljednja u nizu još jednom je dokazala da estradno bračni par funcioniše savršeno, čak i kada se baš ne razumiju.
Tako se nedavno pjevačica pohvalila izumom svog supruga koji je namjestio krevet, tačnije dušek u autu za udobniju vožnju i odmaranje, što je očigledno obradovalo pjevačicu, budući da je predpostavila da je riječ o mjestu gdje zajedno mogu da odmore, ali se nije nadala da je ono namjenjeno drugim osobama.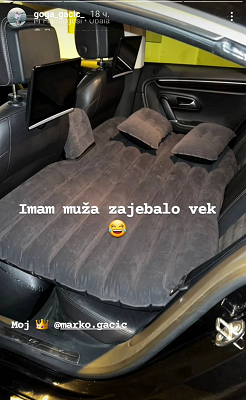 – Imam muža, zaje*ao vijek – pohvalila se Goga na Instagramu uz fotografiju izuma i nazvala supruga kraljem, ali je ubrzo dobila nikad jači odgovor.
– To služi za djecu da spavaju, nije ono na šta si mislila – odgovorio joj je Marko, a ni Goga mu nije ostala dužna.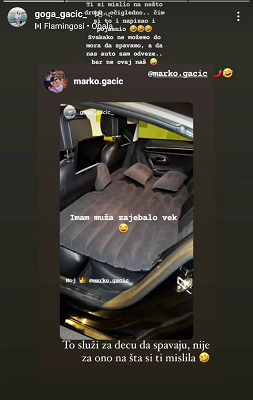 – Ti si mislio na nešto drugo očigledno, čim si to i napisao i pojasnio. Svakako ne možemo do mora da spavamo, a da nas auto sam odveze, bar ne ovaj naš – poručila mu je javno, a i dalje se postavlja pitanje na šta li je to Goga mislila.
Međutim, nedavno nas je iznenadio kada je priznao da je ljubomoran i da mu teško pada razdvojenost od supruge.
(express/grandonline)