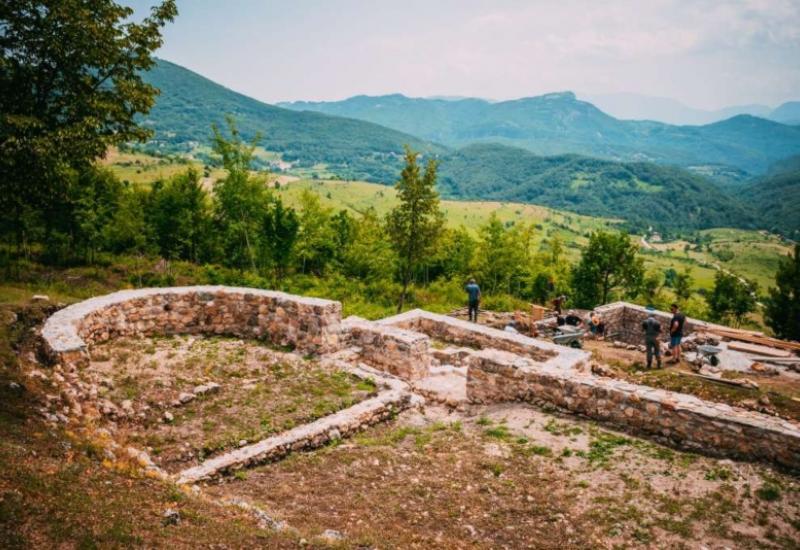 Tekst članka se nastavlja ispod banera
Počeli su radovi na zaštiti rimskog vodospremnika, odnosno čatrnje na brdu Gradac u općini Prozor-Rama koji je pronađen prije nekoliko godina na više od 900 metara nadmorske visine, a koji se skrivao stoljećima ispod skoro četiri metra zemlje.
"Ovo je primjer arheološkog parka kojeg na najljepši način moramo dati novim generacijama koje dolaze" – kazala je za Fenu Snježana Vasilj, arheologinja, povjesničarka i profesorica koja nadzire radove.
Dodaje kako se radi o arheološkom kompleksu kojeg čini jedna kasnoantička crkva i uz nju cisterna, odnosno vodospremnik koji je otkriven i sustavno istraživan prethodnih godina.
"Radi se o objektima iz 6. stoljeća koji su nalegli na stariju rimsku arhitekturu. Kuriozitet cijelog lokaliteta je još u tome da se nalazi na lokalitetu gdje nam keramika potvrđuje vremensko razdoblje od enelitika do kasne antike. Znači da smo na tragu jednog lokaliteta u trajanju od preko 4 tisuće godina" – otkrila je ona.
Vasilj ističe kako ovo arheološko nalazište postaje nezaobilazno turističko odredište, posebice jer je na ovom prostoru već ranije izvršena zaštita crkve čija se starost procjenjuje na oko 1.500 godina.
"Lokalitet će značajno dopuniti ponudu koju prostor Prozor-Rame do sada ima u turizmu. Na tome samo treba poraditi, a koliko vidim lokalne vlasti su za to jako zainteresirane. Ovo bi trebalo biti primjer svima ostalima kako se skrbi o baštini koja nam je ostavljena" – poručila je arheologinja.
Foto: Fena / Stoljećima star rimski vodospremnik i crkva značajno će obogatiti turističku ponudu Rame
Radove na zaštiti izvode djelatnici JP "Komgrad" i mještani koji imaju izuzetno velika iskustva u radu s kamenom, a neki od njih su radili i na zaštiti spomenika kulture u Republici Hrvatskoj kao što je pulska Arena.
"Naravno da je domaće stanovništvo prepoznalo ove vrijednosti. To je nešto opipljivo, narod to voli i na neki način se narod saživio s ovim lokalitetom" – smatra Vasilj.
Dalje je kazala kako će, nakon što bude izvršena zaštita svodova u samom vodospremniku, biti postavljena i zaštitna nadstrešnica.
"Očito da Općina ima namjeru s ovim lokalitetom i dalje nešto napraviti da bi se stavio u javnu službu. Tu će biti moguće doći, boraviti, vidjeti i prilagoditi lokalnim namjenama, nečemu održivom kroz objekt koji će biti zaštićen i obnovljen" – poručila je ona.
Podršku projektu Via Dinarica daje Program Ujedinjenih naroda za razvoj (UNDP) uz sudjelovanje Općine Prozor-Rame koja financira radove.