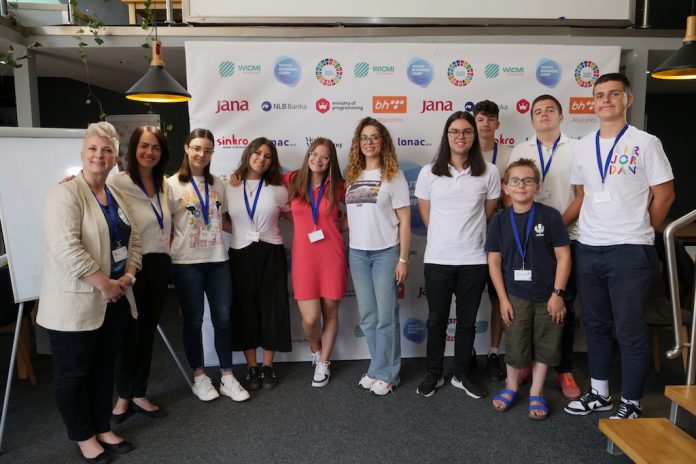 U Sarajevu je danas počeo prvi Youth Business Camp Adria – Sarajevo namijenjen mladima uzrasta od 15 do 19 godina. Tokom dvije sedmice odnosno do 7. jula polaznici i polaznice Kampa će poslušati 20 predavanja, raditi 8 sati s mentorima, posjetiti dvije uspješne kompanije i razgovorati sa osobom poznatom po svom iznimnom poslovnom uspjehu u vođenju vlastite kompanije. Vlasnici franšize i autori Kampa su Apriori World iz Zagreba, a certificiran je od strane World Innovation and Change Management Institute iz Ženeve. Prirodna mineralna voda Jana je oficijelna voda YBC Adria Sarajevo dok su ovaj projekat podržali i BH Telecom, NLB banka, Sinkro namještaj i Ministry of Programming.
"Raduje nas organizacija jedinstvenog obrazovnog programa za mlade u našoj zemlji kroz koji ćemo ih upoznati sa mnogim vještinama koje im trebaju u savremenom poslovanju te im kroz teoriju i praktične primjere pokazati da je i u Bosni i Hercegovini moguće ostvariti uspješnu karijeru", istakla je Asja Dupanović, vlasnica franšize za Bosnu i Hercegovinu.
Predavanja se održavaju u modernom prostoru Homework HUB koji već okuplja mlade ljude, a njegov osnivač Mirza Rastoder i višestruki uspješni poduzetnik Edin Mehić bit će sjajni mentori koji će djecu voditi kroz njihove projektne zadatke do konačne prezentacije pred žirijem. Među sjajnim predavačima i predavačicama su i Melika Husić Mehmedović, Maja Arslanagić-Kalajdžić i Jasna Kovačević (Ekonomski fakultet Sarajevo), Amra Hašimbegović (Global Market Solutions), Vedad Halilović (AS Holding), Tatjana Vučić (Filantropski forum BiH), Aldina Hadžić (Starline Mercedes Benz), Ajla Delić (Wolf Theiss), Armin Ridžalović (Ernst & Young), Edin Bešlić (McCann Sarajevo), Suzana Tihi-Babić (Addiko Bank), Selma Riđanović-Kenović (UniCredit bank), Vedran Tičić (ForFive dma), Edin Kulović, Asim Halilbašić, Dženan Šljivo (Ministry of  Programming), Larisa Špago, Ajla Mulać (NLB Banka).
"Konkretno znanje, sjajna prilika za druženje sa vršnjacima i otkrivanjem svijeta biznisa od vrhunskih stručnjaka i stručnjakinja – vrijednosti su prvog Youth Business Campa Adria Sarajevo i sigurna sam da je danas počela jedna uspješna poslovna priča za mlade u BiH! Zahvaljujem sponzorima i roditeljima i djeci na povjerenju i radujemo se druženju u naredne dvije sedmice!", istakla je Una Bejtović, direktorica Kampa i agencije Bejtovic Communications koja je partner za provedbu Kampa u Sarajevu. Polaznike i polaznice osim predavanja očekuje i priprema završnih prezentacija pred žirijem, te dodjela certifikata posljednjeg dana Kampa u petak, 08. jula, 2022.
Više o Kampu na http://youthbusiness.camp i na zvaničnoj Facebook stranici
https://www.facebook.com/ybcadriasarajevo