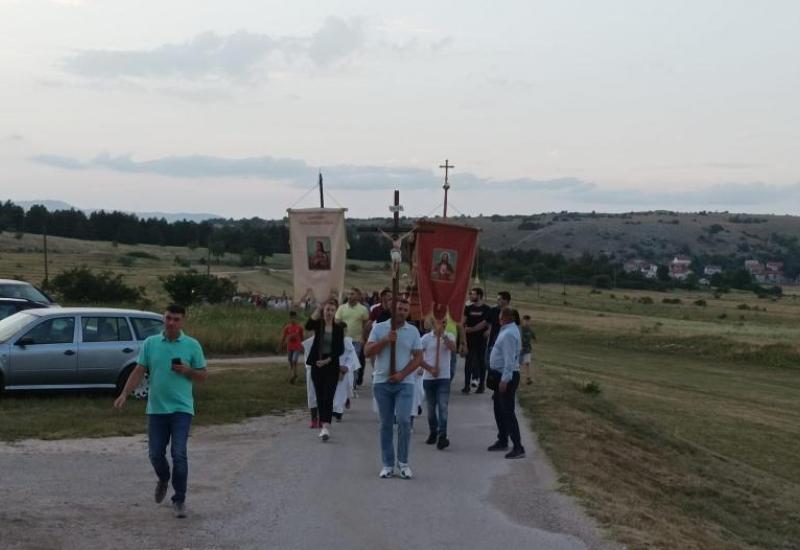 Tekst članka se nastavlja ispod banera
Foto:Tomislavcity  / Procesija s kipom svetoga Ivana  u Roškom Polju
U Roškom Polju je u četvrtak upriličena svečana uočnica današnjoj velikoj proslavi roškog zaštitnika, svetoga Ivana Krstitelja.
"Kada lutamo ovozemaljskim stazama svoji smo onda kada znamo gdje je naš izvor. Sveti Ivan Krstitelj neprestano je to govorio i svojim nasljednicima i svojim slušateljima. Želio im je otvoriti oči tijela i oči srca, nije ih silom na to tjerao već snagom svoje riječi", kazao je večerašnji predvoditelj misnoga slavlja fra Miljenko Stojić.
"U pustinjama nismo bili ali smo ih vidjeli u medijima, plaše nas, ne sviđaju nam se i ne znamo kako bismo živjeli u njima. Znamo da je u jednoj takvoj pustinji svoje dane provodio sveti Ivan Krstitelj i u njoj je pomagao drugima. Prije toga on je izgradio svoj odnos s Bogom, njemu je povjerovao i nestalo je duhovne pustinje i nastala je stabilna oaza. Svoje duhovno bogatstvo ne smijemo čuvati za sebe nego ga širiti dalje jer tek tada osjećamo puninu i kao ljudi i kao kršćani – između ostaloga je kazao u svojoj nadahnutoj homiliji u kojoj je podsjetio da nikada ne smijemo zaboraviti žrtvu svojih predaka kao i Božju pomoć kroz našu povijest.
U kršćanskoj duhovnosti do dana današnjega mučeništvo je na najvišoj razini. Kršćani su od samoga početka popisivali svoje mučenike. Ni vas ovdje život nije mazio. Mučeničkom krvlju zalijevali ste biljku svoje vjere i svoga domoljublja. Poimenice se spomenimo danas dvojice od svih vaših ubijenih: fra Filipa Gašpara i fra Jakova Križića koje su ubili komunisti", podsjetio je večerašnji propovjednik.
Roški župnik, fra Jozo radoš Đoka zahvalio se fra Miljenku na poticajnim i ohrabrujućim riječima ali i na društvenom zalaganju na očuvanju povijesnih istina.
Tradicionalno, nakon misnoga slavlja procesija s kipom svetoga Ivana pobožno se uputila prema groblju gdje je uz prigodnu molitvu zapaljen veliki svitnjak u čast moćnom, nebeskom zaštitniku.