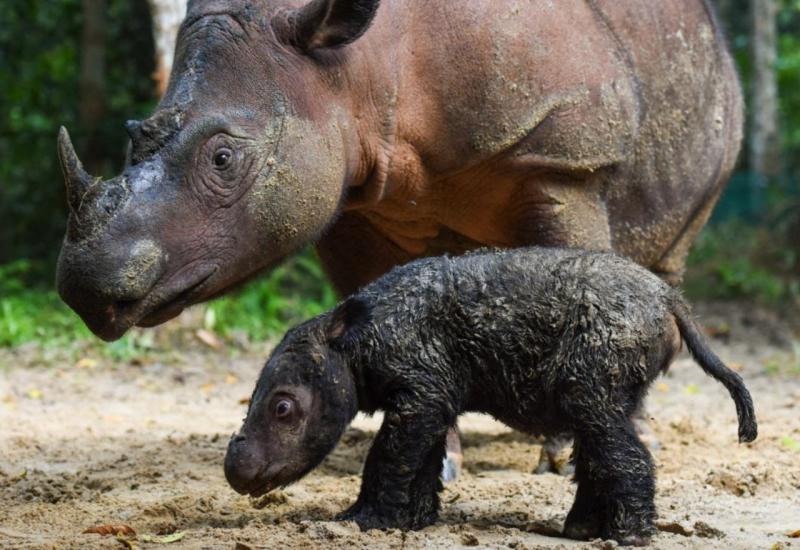 Tekst članka se nastavlja ispod banera
Sumatranski nosorog jedna je od najugroženijih vrsta nosoroga i rođenje svakog novog je velika vijest. Jedan maleni došao je nedavno na svijet u utočištu u Indoneziji i to je, kako kažu tamošnji stručnjaci, važan poticaj u borbi za spas ove vrste.
Njegovo rođenje budi nadu da bi se vrsta mogla oporaviti, premda je još dalek put do toga, piše Jutarnji.hr. 
Malenog je na svijet donijela mama Rosa i to je njen prvi porod nakon što je završila u utočištu. Tamo je došla nakon što je lutala selima, plašeći seljane.
Foto: AFP/Profimedia / Sumatranski nosorog
Zbog svoje je sigurnosti završila je na mjestu gdje je nitko neće ubiti. Po selima je lutala jer je zbog sječe šuma izgubila stanište, a prijetili su joj krivolovci. Naime, njima je iznimno isplativo ubiti životinju kako bi joj uzeli rog, koji se koristi u kineskoj tradicionalnoj medicini.
Ova vrsta nosoroga živi u tropskim kišnim šumama i močvarama. To su samačke životinje, vegani koji dnevno mogu pojesti i do 50 kilograma hrane. I službeno se smatraju kritično ugroženima – u divljini ih je ostalo samo 275.