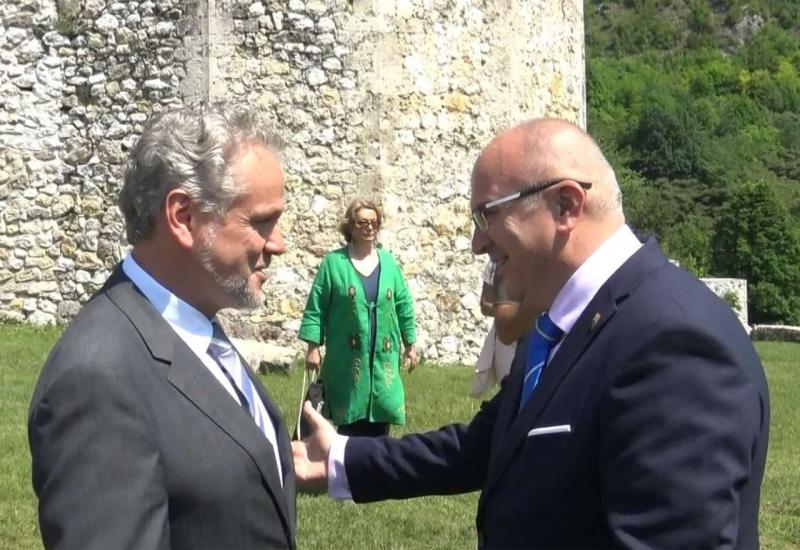 Tekst članka se nastavlja ispod banera
Travničani, njihovi gosti i veleposlanici nekoliko država danas su imali priliku vidjeti kako je Travnik izgledao prije skoro 600 godina, u vrijeme radnje romana "Travnička hronika", nobelovca Ive Andrića.
Današnji događaj upriličen je u okviru manifestacije "Konzulska vremena", nazvane po jednom od podnaslova Andrićevog romana, i to na dan 3. lipnja, datum prvog pisanog spomena Travnika u povijesnom dokumentu iz 1463. godine.
"Pozvali smo veleposlanike da posjete grad i dožive ga kroz "Travničku hroniku", upoznaju njegovu kulturu, povijest, tradiciju i znamenitosti. Želimo pokazati kako je izgledao grad u vrijeme radnje Andrićevog romana. Francuska je zemlja partner ove godine, s obzirom na simboliku romana, i činjenicu da je 1807. godine Francuska otvorila generalni konzulat u Travniku, što je bilo prvo stalno diplomatsko predstavništvo u BiH", kazao je viši kustos Memorijalnog muzeja "Rodna kuća Ive Andrića" Enes Škrgo.
Veleposlanica Francuske u BiH Christine Toudic kazala je kako je oduševljena što je realizirana ideja o kojoj je prije nekoliko mjeseci razgovarala s travničkim načelnikom Kenanom Dautovićem.
"Htjeli smo na neki način obilježiti i oživjeti te veze i došli smo na ideju da organiziramo ovu manifestaciju. Ja sam ove godine prva počasna gošća i potrudit ću se razgovarati sa svojim kolegama kako bi oni u budućnosti preuzeli ulogu suorganizatora ovog događaja", kazala je veleposlanica Toudic.
Foto: Fena / Sattler na Konzulskim vremenima
Travnik je danas posjetio i šef Izaslanstva EU i specijalni predstavnik EU u BiH Johan Sattler, koji je najavio nova ulaganja u Travnik.
"Nikad ne požalim kad dođem u Travnik, a danas je poseban dan. U BiH nema previše ovakvih gradova koji čuvaju tradiciju, kulturu i naslijeđe koje imaju. EU kontinuirano ulaže u Travnik i nastavit će ulagati. Danas je glavna zvijezda Ivo Andrić jer je ovo njegov grad", kazao je Sattler.
Travnički načelnik Kenan Dautović poručio je kako se Travnik ovakvim događajima želi pokazati europskoj i svjetskoj javnosti.
"Travnik je 144 godina bio glavni grad Bosanskog ajaleta. Htjeli smo napraviti jedan most iz povijesti u sadašnjost i budućnost. Zato smo pozvali veleposlanike koji danas promoviraju kulturu i vrijednosti. Ovo je najbolji način da Travnik otvorimo prema euroatlantske integracijama i da našim građankama i građanima pokažemo što mi to imamo, jer izgradnja ovih standarda nama treba zbog nas a ne zbog Bruxellesa", rekao je Dautović.