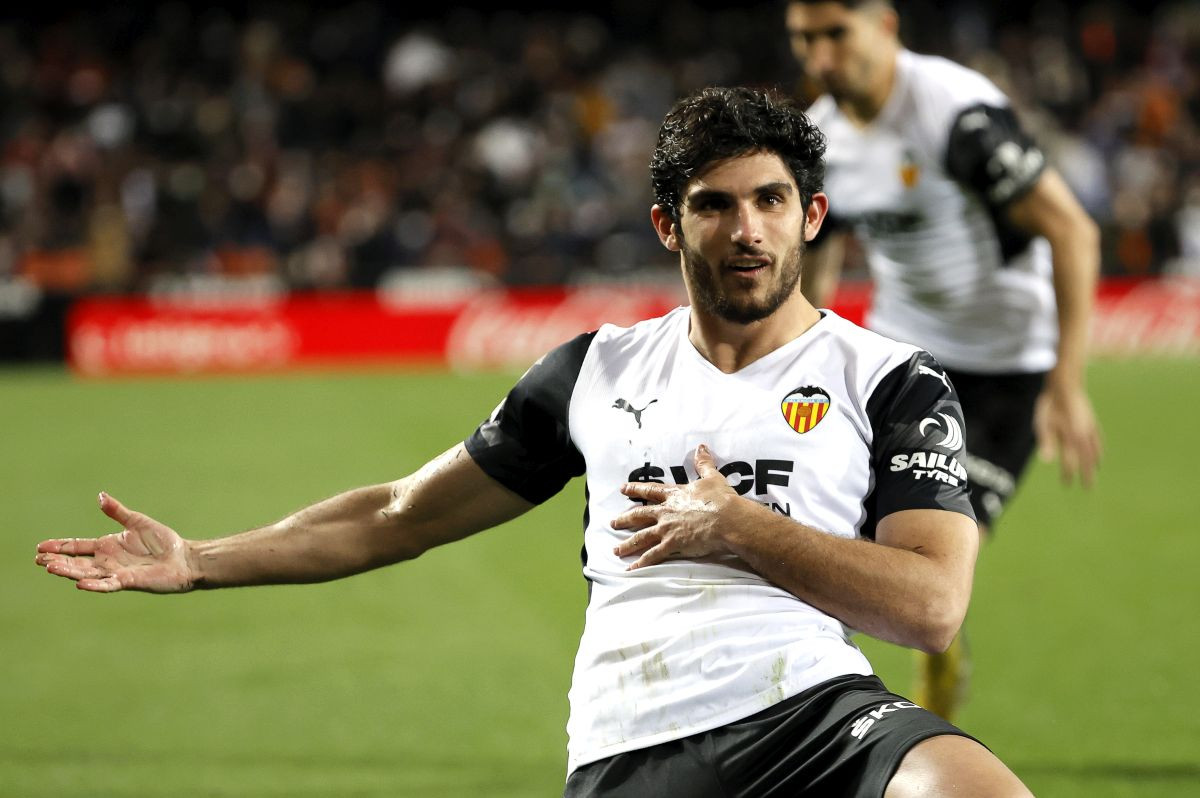 Goncalo Guedes primoran da sjedi na klupi većinu utakmice
Ekipa Valencije nema namjeru da do kraja sezone koristi usluge zvijezde tima Goncala Guedesa u više od 45 minuta po utakmici.
Sjajni Portugalac stigao je na Mestallu 2018. godine iz PSG-a za 40 miliona eura. Prodaja je uključivala i klauzule, a jedna od njih o broju nastupa i minuta umalo se aktivirala ove sezone.
Reklama – nastavite čitati ispod oglasa
PSG bi dobio dodatnih pet miliona eura od Valencije ako bi Guedes odigrao više od 45 minuta u određenom broju utakmica, ali Šišmiši ne žele da plate i neće koristiti Guedesa previše.
🚨EXCLUSIVA @SERDepValencia:

7️⃣ El motivo que se esconde tras las suplencias de Guedes.

🦇 El @valenciacf tendrá que bonificar con 5 millones de euros al @PSG_espanol si disputa más de 45 minutos en algún partido.

💻 Una información de Fran Guaitahttps://t.co/q73J2mH6ms

— SER Deportivos Valen (@SERDepValencia) May 12, 2022
Tako je u prethodne dvije utakmice 25-godišnji Portugalac na terenu provodio nešto više od dvadesetak minuta. Tako će biti i u posljednje dvije utakmice ove sezone.
Reklama – nastavite čitati ispod oglasa
Guedes će oba meča početi s klupe. Neće dobiti previše minuta kako se ne bi aktivirala klauzula i Valencia će sačuvati pet miliona eura.
Portugalski fudbaler je većinu utakmica ove sezone počeo od prve minute. Tokom sezone bio je samo dva puta na klupi sve do posljednja dva susreta kada je također sjeo među rezerviste.
To je začudilo mnoge jer se radi o zvijezdi tima. Ipak, sada je jasno zašto je to tako i Guedes neće imati mogućnost da bude u prvom sastavu.
Ukupno je u svim takmičenjima ovaj fudbaler za Valenciju odigrao 40 utakmica ove sezone i ima učinak od 13 golova i šest asistencija.
Goncalo Guedes je karijeru počeo u Benfici. U januaru 2017. godine potpisao je za PSG za 30 miliona eura, ali se u Parizu nije najbolje snašao i zatim je uslijedila pozajmica, pa potom i prodaja Valenciji.
Na Mestalli igra zaista dobro. Nastupio je 176 puta i zabio je 36 golova.
Reklama – nastavite čitati ispod oglasa