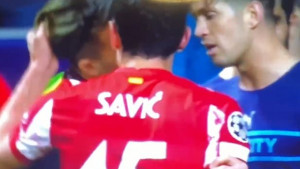 Manchester City je uspio da se plasira u polufinale Lige prvaka jer je s ukupnih 1:0 pobijedio Atletico Madrid i večeras je uspio da preživi pakao na stadionu Wanda Metropolitano.
Reklama – nastavite čitati ispod oglasa
Atletico je u finišu utakmice na sve načine pokušao da dođe do gola koji bi meč odveo u produžetke, ali je City sačuvao mrežu i na kraju se plasirao dalje.
U samom finišu gledali smo velike varnice na terenu. Sve je počelo kada je Felipe namjerno udario Fodena, a kasnije je nastao haos jer je i Savić htio da se ubračuna s njim.
Reklama – nastavite čitati ispod oglasa
Felipe je dobio crveni karton, a prekid je trajao nekoliko minuta. Kada je utakmica nastavljena krenuli su novi sukobi između igrača Manchester Cityja i Atletica.
Veliki sukob vidjeli smo u tunelu stadiona kada je Savić ponovo bio u svađi s igračima Cityja, ali ovaj put u sve se uključio i rezervista Šime Vrsaljko kojeg su jedva zaustavili.
Vrsaljko je kako se vidi na snimku prvo flašom gađao nekog od članova Cityja, a potom je pokušao fizički da nasrne na nekoga od njih.
Nakon što su ga saigrači nekako zaustavili Vrsaljko je pljunuo u pravcu igrača i članova Manchester Cityja što su kamere jasno snimile.
Potom je nastala totalna ludnica u tunelu stadiona Atletico Madrida, a na kraju je morala reagovati i policija.
Reklama – nastavite čitati ispod oglasa
The full time scenes between Madrid and City… incredible 🤣pic.twitter.com/6csrMQh7Rr

— Watch LFC (@Watch_LFC) April 13, 2022
Vrsaljko i Savić sukob s Grealishom počeli na Etihadu
Vrsaljko i Savić su bili obojica starteri na Etihadu gdje je Atletico Madrid poraženi sa 1:0, te ni u Manchesteru nisu mogli bez varnica s protivničkim igračima.
Već tada se na meti Savića i Vrsaljka našao Grealish s kojim su imali prvo verbalni sukob, a onda je tu bilo provokacija koje su prelazile svaku granicu.
Vrsaljko je tada povukao za kosu Grealisha nakon što je dobio žuti karton, a večeras je istu stvar uradio i Savić samo što Crnogorac može biti sretan jer sudije pored cijelog haosa to nisu vidjele.
Bilo kako bilo ovakvo ponašanje igrača Atletica sigurno je bacilo mrlju na ovaj dvomeč, a koliko im je teško palo ispadanje iz Lige prvaka ove scene najbolje pokazuju.