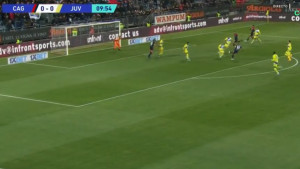 Prvi pogodak vidjeli smo već nakon nepunih 10 minuta igre. Razvan Marin je ubacio, a Joao Pedro pogađa za vodstvo domaćeg tima.
Reklama – nastavite čitati ispod oglasa
Samo trinaest minuta nakon toga, Adrien Rabiot postiže gol, no on je poništen. 
Reklama – nastavite čitati ispod oglasa
Nakon udarca Pellegrinija lopta pogodila Rabiota i završila u mreži. Igrači Juventusa su proslavili gol, lopta je već bila na centru, a onda je došla reakcija VAR sobe.
Naime, iz VAR sobe su signalizirali sudiji da je Rabiota lopa pogodila u ruku i da se gol poništi što je on i uradio.
Međutim, u Juventusu niko ne može da vjeruje da je gol poništen jer je Rabiot leđima bio okrenut, a lopta ga je pogodila u lakat koji je bio uz tijelo.
Mamma mia che schifo, ormai con noi annullano anche i goal regolari. Rabiot praticamente doveva tagliarsi il gomito pic.twitter.com/dwBWXke2QN

— 🌻 (@vane___96) April 9, 2022
Reklama – nastavite čitati ispod oglasa
Ipak, Stara dama dolazi do izjednačenja u smiraj prvog poluvremena, a strijelac je bio De Ligt. 
DE LIGT GOAL 🔥
Great work from Cuadrado #CagliariJuventus pic.twitter.com/kTl7Ku0qUG

— Juve Canal (@juve_canal) April 9, 2022
Otvaranje drugog poluvremena donosi novi poništen gol gostiju, ovaj put vrlo opravdano. Ofsajd je signaliziran Chielliniju.
Branio je Cagliari bod, ali nije mogao da ga odbrani. U 75. minuti ukazao se Dušan Vlahović i na asistenciju Dybale pogodio za preokret i velika tri boda torinskog tima.
Reklama – nastavite čitati ispod oglasa
VLAHOVIC IS THE SERIE A TOP SCORER YET AGAIN! WHERE ARE THE HATERS AT NOW? 🧏‍♂️🔥 pic.twitter.com/1hVHLBvTeg

— Ralphie (@powellyowl) April 9, 2022
Juventus je ovom pobjedom dodatno učvrstio 4. poziciju sa 62 boda, te sada ima osam više od Rome, a deset od Lazija uz utakmicu više od rimskih rivala i na dobrom je putu da izbori mjesto u Ligi prvaka. 
Cagliari je 17. sa 25 bodova, tri više od Venezije koja je prva ispod crte, ali i s dvije utakmice više. Tri boda i utakmicu manje ima i pretposljednja Genoa, dok je Đurićeva Salernitana sa 16 poena već prežaljena.
Naredno kolo Juventusu donosi domaći meč s Bolognom, dok će Cagliari ponovo imati tešku utakmicu na Sardniji gdje im dolazi Sassuolo.
Serie A, 32. kolo:
Cagliari – Juventus 1:2 (Pedro 10′; De Ligt 45′, Vlahović 75′)