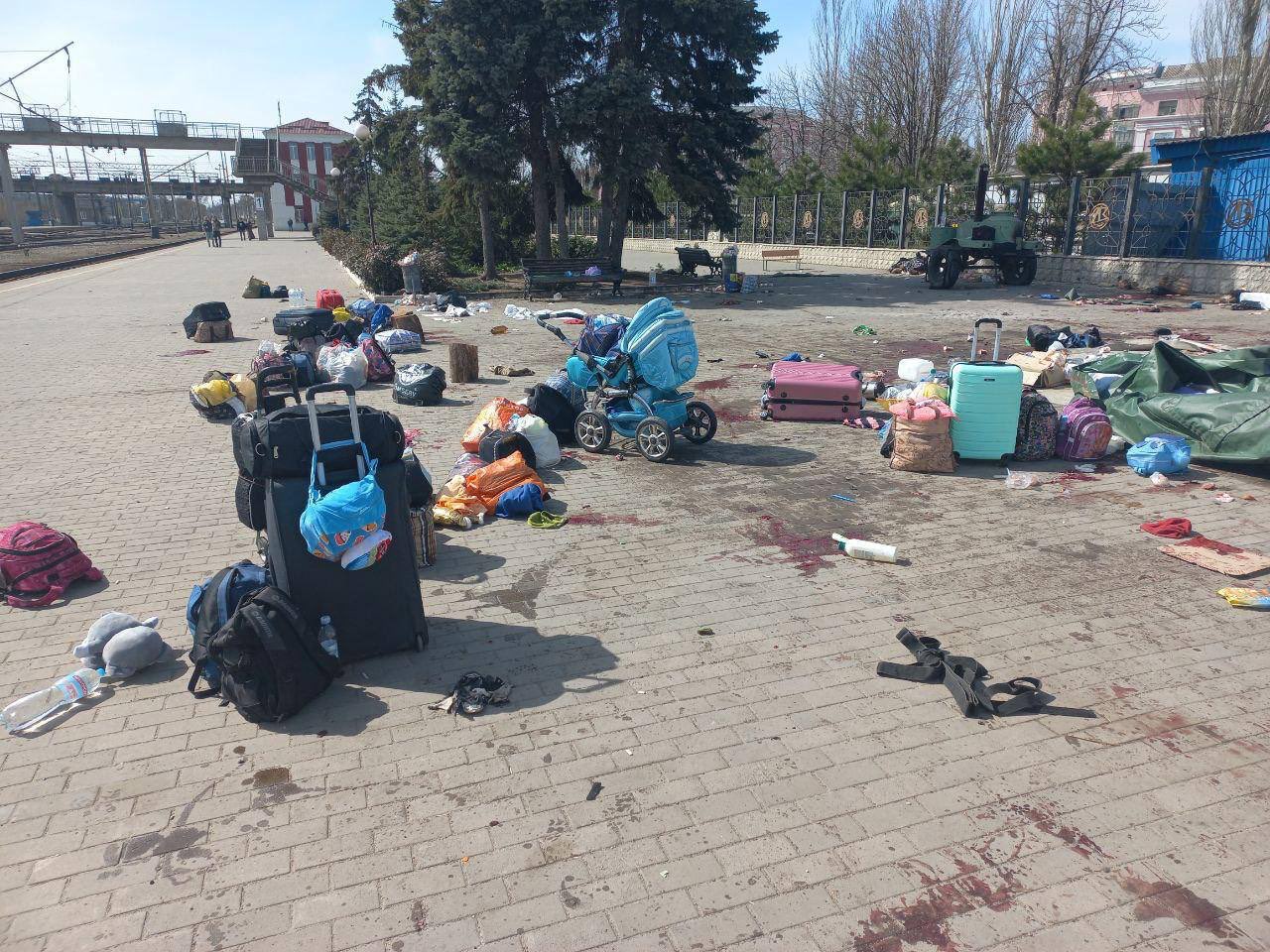 [{"img":"\/img\/vijesti\/2022\/04\/kramatorsk_napad.jpg","full":"\/img\/vijesti\/2022\/04\/kramatorsk_napad.jpg","caption":"","bg":"a79990″},{"img":"\/img\/vijesti\/2022\/04\/kramatorsk_napad3.jpg","full":"\/img\/vijesti\/2022\/04\/kramatorsk_napad3.jpg","caption":"","bg":"393b45″}]
Na društvenim mrežama objavljen je snimak koji je nastao neposredno nakon jutrošnjeg raketnog napada na željezničku stanicu u Kramatorsku u kojem je, prema posljednjim podacima, poginulo najmanje 50 osoba, među kojima je i petero djece.
"Okupatori su projektilom Tačka-U pogodili željezničku stanicu u Kramatorsku, gdje je hiljadu miroljubivih Ukrajinaca čekale na evakuaciju. Glas na snimci kaže: Bože, ima toliko djece! Toliko leševa", objavio je danas ukrajinski parlament.
Confirmed: Russian missile attack at the Kramatorsk train station reportedly kills 39 civilians, injures 100 and cuts rail escape routes from Donetsk region north of Mariupol pic.twitter.com/tBe6lnXcyQ

— Anonymous (@YourAnonNews) April 8, 2022
DRASTIC VIDEO. #Kramatorsk #Ukraine. Russians know they killed civilians. Russians know West will be outraged and Twitter will mark such videos as sensitive. Why did they do it then? Because Russians know they can do anything and West will be bear it patiently. It doesn't work. pic.twitter.com/ttcNEEefS3

— Galina Aksakova (@GalinaAksakova) April 8, 2022
russians carried out two missile stikes on railway station in Kramatorsk, where evacuation of civillians was taking place. But russian war criminals not only deliberately targeted thousands of people; they've used cluster munitions.
More than 30 killed
More that 100 injured pic.twitter.com/oj9zMCdIlz

— Defence of Ukraine (@DefenceU) April 8, 2022
Brojni svjetski zvaničnici poput njemačkog kancelara Olafa Scholza i britanskog premijera Borisa Johsona osudili su napad. Scholz je poručio da Vladimir Putin "snosi odgovornost za ove ratne zločine".
Rusija je zanijekala da su njene snage izvršile napad.
loading…