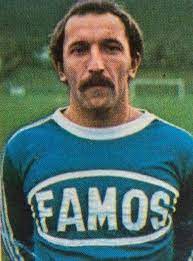 I to smo doživjeli, da jedan fudbalski anonimus Jerome Rothen (Francuz) dijeli kritike jednom od najvećih fudbalskih stratega na svijetu, Vahidu Halilhodžiću – fudbalskom geniju.
Zasto je VAHA fudbalski genije?
Zato što se iz male Jablanice (populacija u to vrijeme oko 3.000) popeo na krov fudbalskog svijeta. To mu je omogućila njegova inteligencija kao i fudbalska genijalnost. Inteligencija nije naše obrazovanje ili stepen edukacije.
Inteligencija je sposobnost detektiranja problema i situacije u određenom vremenu i prostoru, te donošenje pravilnih i pravovremenih odluka u rješavanju istih.
Genijalnost je urođena kategorija i čini nas drugačijim od ostalih. Genijalci ne prate ostale (nas) jer mi pratimo, slijedimo i divimo se njihovim idejama i dostignućima.
On je fanatic kaže filozof iz fudbalskog dječijeg obdaništa, Jerome Rothen. On je diktator koji se brine o svemu i ne poštuje svoje saradnike. Ne koristi današnju modernu tehnologiju i nije dobar psiholog.
I na kraju šlag na sve citiram "on je ostao zarobljen u devedesetim prošlog stoljeća" završen citat. Nažalost po tebe, ti si još zarobljen u kamenom dobu.
Fudbalski filozofe iz fudbalskog dječjeg obdaništa.
Moj i naš VAHA je iznad prosječne inteligencije i naš fudbalski idol i genije, fudbalske igre i svog zanimanja.
Sve to ga je, kao i mukotrpan rad, žrtvovanje familije i svih ostalih blagodeti ovog svijeta dovelo na vrh fudbalskog svijeta i da postane najveći strateg fudbalskih nacionalnih timova svih vremena.
Dragi VAHA,
Ostani ponosan jer si ostavio iza sebe naslijeđe sa  kojim se ne može pohvaliti nijedan fudbalski stručnjak na svijetu.
Nadam se da se svi istinski Bosanci i Hercegovci raduju i ponose sa tobom i tvojim uspjesima. Ja ti skidam šešir (kapu) i klanjam ti se do poda.
Zijo Ništović
Ex fudbaler FK Velež Mostar, FK Igman Konjic i FK Famos Hrasnica.
U proljeće 1972. godine Vaha je otišao na kaljenje u NK Neretvu Metković, a ja u FK Igman Konjic.
Director WorldSoccer Academy u Ottawi Canada (soccer-naš fudbal) najstarije fudbalske academije u Ottawi i Ontariju. Jedini doctor/profesor za fudbal u Kanadi i Sjevernoj Americi.
Ismet Nimanović