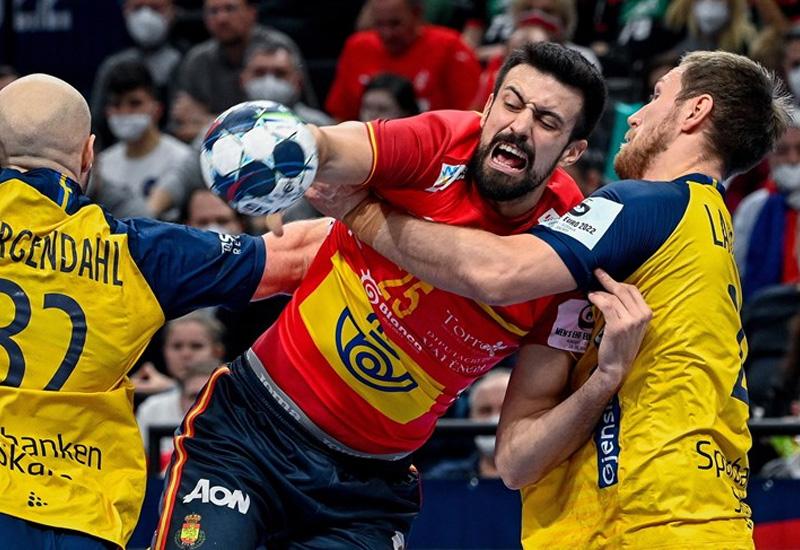 Tekst članka se nastavlja ispod banera
Foto: EPA / Švedska-Španjolska
Rukometna reprezentacija Švedske osvojila je naslov europskog prvaka nakon što je u finalu u Budimpešti pobijedila Španjolsku sa 27-26 golom Niclasa Ekberga iz sedmerca u zadnjoj sekundi utakmice.
Šveđanima je to rekordni peti europski naslov, ali prvi nakon 20 godina. Španjolska, koja je na posljednje dvije europske smotre osvajala zlato, ovoga puta morala se zadovoljiti srebrom.
U susretu za treće mjesto Danska je nakon produžetaka pobijedila Francusku sa 35-32 (29-29, 13-14).
Švedska je bolja otvorila finale, povela je 2-0, pa 3-1, te 4-2. Španjolska je u 14. minuti prvi put uspjela izjednačiti (6-6), a u 29. minuti i prvi put povesti (12-11). Sa španjolskim golom prednosti otišlo se i na odmor (13-12).
U nastavku susreta bolje su krenuli Španjolci, u nekoliko navrata imali su po dva pogotka prednosti, no Švedska je u 39. minuti dohvatila izjednačenje (17-17), a na isteku 42. minute stigla i do prednosti (20-19). Uslijedile su minute u kojima se igralo gol za gol uz mnogo pogrešaka na obje strane.
Šest minuta prije kraja Švedska je ponovo stigla do dva gola prednosti (25-23), a potom imala i dva napada za +3. Da je uspjela zabiti možda bi finale bilo i ranije razriješeno. No Španjolska se nije predavala, tri minute prije kraja smanjila je na gol zaostatka, a zatim izjednačila na 26-26.
Španjolci su minutu prije kraja imali i napad za vodstvo, no Andreas Palicka je obranio udarac Joana Canellasa, gurnuvši Šveđane u priliku za pobjedu. Do kraja susreta preostalo je 19 sekundi, Šveđani su izborili sedmerac, a Ekberg je s istekom vremena bio siguran za veliko slavlje.
Švedsku su do zlata predvodili Ekberg i Oscar Bergendahl sa po pet golova, te Hampus Wanne sa četiri gola. Odličan je bio i vratar Palicka sa 11 obrana.
Na suprotnoj strani najefikasniji su bili Adrian Figueras i Aleix Gomez Abello sa po šest golova, dok je Ian Tarrafeta dodao pet golova. Španjolski vratari Rodrigo Corrales i Gonzalo Perez de Vargas ukupno su imali osam obrana.
U susretu za treće mjesto Danska je nakon produžetaka pobijedila Francusku sa 35-32 (29-29, 13-14).
Bio je to okršaj aktualnih olimpijskih prvaka Francuza, te aktualnih svjetskih prvaka Danaca, a na koncu su slavili Danci. Dancima je to sedma medalja s europskih prvenstava pri čemu četvrta bronca nakon što su treći bili na tri uzastopna EURO-a (2002, 2004, 2006).
Dansku su do pobjede predvodili Jacob Holm sa 10, Niclas Vest Kirkelokke s pet, Rasmus Lauge sa četiri gola, te sjajni Niklas Landin sa čak 18 obrana.
Kod Francuza najefikasniji su bili Kentin Mahe s osam, te Hugo Descat sa sedam golova, dok je Vincent Gerard imao 17 obrana.
Dodajmo kako je Šveđanin Jim Gottfridsson proglašen najkorisnijim (MVP) igračem Europskog prvenstva.
Gottfridssonu je to druga nagrada MVP-a na EHF EURO-u, nakon što je prethodno osvojio titulu kada je Švedska osvojila srebro 2018. On je treći igrač koji je osvojio dvije MVP nagrade, nakon Hrvata Ivana Balića (2004, 2006) i Francuza Nikole Karabatića (2008, 2014).