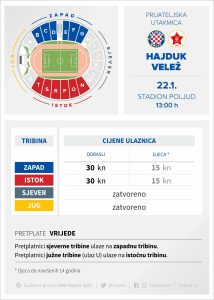 (Tekst preuzet sa zvanične web stranice Hajduka – https://hajduk.hr)
Započela je prodaja ulaznica za pripremne utakmice Hajduk – Velež i Hajduk – Varaždin koje se igraju u subotu 22. januara, te u utorak 25. januara na Poljudu.
Sezonske i polusezonske pretplate za ove utakmice – VRIJEDE. Pretplatnici sjeverne tribine ulaze na zapadnu tribinu, a pretplatnici južne tribine (ulaz U) na istočnu tribinu. Sjeverna tribina i gostujuća tribina neće biti otvorene za pripremne utakmice.
U skladu s trenutnim epidemiološkim mjerama, za prisustvo fudbalskim utakmicama obavezno je dostavljanje EU digitalne COVID potvrde koju možete dobiti na osnovu testiranja, prebolovanog COVID-a ili vakcinisanja. U skladu s najnovijim epidemiološkim mjerama broj gledaoca na sportskim takmičenjima na otvorenom smanjen je na 40% kapaciteta, odnosno na svakoj pojedinačnoj tribini dopušteno je prisustvo do 40% kapaciteta.
EU digitalna COVID potvrda
Sva pitanja vezana za COVID potvrdu možete saznati putem stranica:
https://www.eudigitalnacovidpotvrda.hr/
https://www.eudigitalnacovidpotvrda.hr/hr/cesta-pitanja
Osobe koje zadovoljavaju uslove za izdavanje potvrde, EU digitalnu COVID potvrdu mogu zatražiti putem sistema e-Građani ili u poslovnicama HZZO-a.
Antigenska testiranja
O terminima i lokacijama na kojima će se obavljati antigenska testiranja naknadno ćemo Vas obavijestiti.
Cijena ulaznica za odrasle na ovoj utakmici je 30 Kn, a to je nešto manje od 8 KM. Cijena ulaznica za djecu je 15 Kn, a to je nešto manje od 4 KM.
– Online na ulaznice.hajduk.hr
– Odjel za članstvo na Poljudu
– Hajduk Fan shop Joker
– Cro Fan Shop City Center one
– Cro Fan Shop Mall of Split
– Cro Fan Shop Trogirska 10 (pored Marmontove ulice)
– Prodajna mjesta Ticketshopa
– Kućice oko stadiona na dan utakmice – dva sata prije početka utakmice